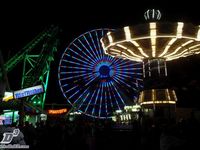 Last week I was 'down the shore' (that's Jersey speak) in Wildwood, Cape May, Atlantic City, Brick, Ocean City and Point Pleasant, hence the gap in updates recently. I'll save you all from hearing the fun stories of getting sunburn at the beach, gambling away $50 bucks in AC, and being caught in a torrential downpour in Cape May and get right to the on topic amusement related things!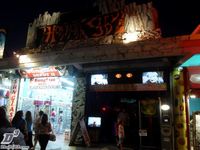 Wildwood, NJ has sort of had a dark ride resurgence this past year with the addition of three haunted attractions across the boardwalk. The most notable of which is Morey's Piers' walk through ride Ghost Ship which took the place of the old golf course on Mariner's Landing pier. The second haunted attraction is Horror City 3D, a revamp of Zombie World with the most notable difference being the removal of Zombie World's track, turning it into a walk through. Finally, Sportland Pier, a sparsely populated amusement pier in North Wildwood, saw the addition of House of Haunts which took over the former arcade building. The ride didn't seem to be open just yet but they did have an electric chair 'ride' where people pay three bucks to be 'electrocuted.' They also have a website up!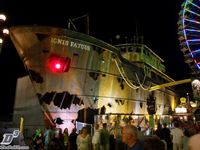 This year was the first that I did not get a wristband for Morey's Piers, I don't know, I just didn't feel it this year after many years of riding the same rides. However my sister and I did get some tickets to go on Ghost Ship and Great White, Morey's Piers' wooden coaster. Ghost Ship was an incredible 12 tickets, translating to about $11.40……….! Wow, this one better be good!
The outside of the ride looks much like its namesake, an old, dilapidated ship with a skull-like appearance to the ship's bow. The boat's name is Ignus Fatuus, or Foolish Fire in Latin. The name is actually another term for Will-o' the-Wisp which are those strange balls of light seen in swamps. Another definition of Ignus Fatuus is "something that misleads or deludes." The outside features a large queue line which was indeed completely filled on some nights.
Upon entering, riders walk left, down a hallway and to the ticket scanner and waiting area. Riders wait until the attendant says they can go in, at which point a short movie will play telling of the boat's dilemma, something to do with a radioactive spill aboard the ship. Afterwards, riders walk through various scenes of toxic havoc, malfunctioning machinery and about 15 or 20 inhabitants of the boat…who don't take kindly to the non-irradiated. That's all I'll say here about the ride as to not ruin it for potential riders. I might post a ride review later on, once the ride has settled in a bit. It was a fine walkthrough attraction however; it had a lot of neat props and it pretty long as well!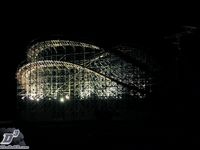 The other ride we went on was Great White, the CCI built hybrid wooden coaster. This one was 8 tickets, which is pretty standard for a large coaster I guess. We rode in the back seat at night which translated to quite a bit of airtime along with a great wooden battering since this coaster isn't exactly smooth. I made it a point to not hold on at all which resulted in being ragdolled around the seat and into my sister on occasion. Hell, it was my one ride on it this season, I may as well be reckless!
Some other notes about the boardwalk was that the large sky tower structure on Adventure Pier has finally been removed. The tower was left over from the pier's days as Fun Pier before Morey's bought the property. No real loss other than the remnant of Wildwood past it signified. Also on Adventure Pier,the Chance Inverter has been taken out. Again, not much of a loss.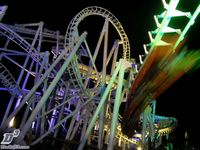 Over at Surfside Pier, Condor seemed to have been closed for much of the week I was down. I saw it running once on Monday night but that was it. I've been hearing over at Mr. Boardwalk that Condor had a break down one night which nearly resulted in a rope rescue for people stuck on the ride. Not pertaining to amusements, I noticed that the 'fad' this year at the boardwalk stores are these stupid ball clackers that use a string. Also, 'Free Hugs' shirts and 'Come at me bro!' shirts were popular…blah, blah and more blah.
Bonus Trip Report: Some Fair in Brick!
So I went to get some pizza one night while at my families' shore house and noticed a sign for a fair somewhere in Brick Twp. All right! So I ate and then headed off to the fair. Upon arriving I saw a racked Octopus in a small parking lot. Ok, what the hell is this? Did I miss the fair? Nah, it was just a leftover. The real fair was across the street, set back a little. The fair was basically the same as the St. Philomena's carnival in Livingston last year, with Campy's Amusements running the show. Rides included Scat, Gravitron, Scrambler, Bumper Cars, Ferris Wheel, Slide and some kiddie rides.