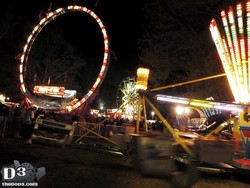 Hey, first carnival of 2013! This really shouldn't be the first trip report of 2013, though, as Six Flags opened in March this year, but I ended up not getting down there as of yet. Anyway, I headed over to the Middlesex Fire Dept carnival on Saturday, April 27th and arrived at around 8:15pm. Campy's Amusements was running the midway again this year and the fair featured:

Ring of Fire (Fireball)
Scat 2
Scrambler
Gravitron
Tilt-a-Whirl
Scooter
Octopus
Fun Slide
Carousel
Ferris Wheel
A bunch of kiddie rides
A selection of greasy treats
Games of skill
Zeppolies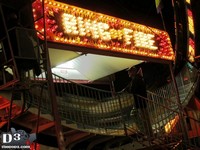 Upon entering the fair, he first thing I stumbled across was a watergun game that had a quasi-rave atmosphere going on with fog, spinny lights, and music. Got to say, that seems like a great idea to draw people in! The fair was basically the same as last year save for Ring of Fire, Campy's new Larson Fireball ride for 2013. It had a white and magenta color scheme for a change; usually these rides sport a blue coloring. Considering the name and style of the sign, I wonder if this is a converted Ring of Fire or something. While watching the ride, I noticed one of the ride ops teaching another how to control the ride. The person at the controls struggled to get the train to complete a loop for a bit before getting the hang of things.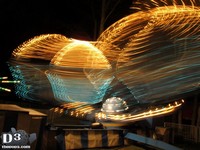 Scat 2 sat just in front of and the side of Ring of Fire. I really like the blue and white color scheme on this ride. Also, I remember when Scat rides simply had a chain to 'hold' riders in. Now it seems like they have leather straps to literally hold riders to the wall.
Octopus was in front of Scat. It was a nice looking 8 pod Eyerly model. It was way too dark to get any good photos of it though, so you're just going to have to take my word for it! Scrambler, an Eli-Bridge ground mount model was on the opposide side of Scat. I like how maybe 50% of riders don't know that the heavier person needs to go on the outside. When I worked on a Scrambler at a small amusement park, that was probably one of the main reasons for slowing of the loading process…even though the rule was written on the safety bar.
Tilt-a-Whirl and Gravitron sat near the back. Tilt-a-Whirl seemed particularly low to the ground which made it easier to photograph…of course, I still couldn't get any good shots. Scooter, a small-medium bumper car arena, hung out back there as well.
I didn't stick around for too long after getting in some photos. On the way out I grabbed a bag of zeppolies and munched on them while heading back to the car.