Coney Island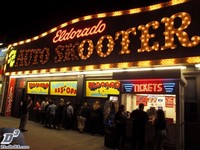 Eldorado Auto Skooters in Coney Island will reopen for 2013! The ground floor, disco bumper car extravaganza was set to close after the 2012 season before a lease for 2013 was agreed upon. Nothing seems to come easy however as after the lease was penned, hurricane Sandy flooded most of Coney Island including Eldorado. But, the owners have been working to restore the bumper cars and are set to open on March 24 along with the other Coney Island parks. So, get ready to bump your ass off in 2013!

More good news is that Spook-a-Rama at Deno's Wonderwheel Park will also reopen in 2013 following severe flooding thanks to Sandy. The ride will feature old as well as new props. I regret to say that I've never been on Spook-a-Rama (I know, it's a sin) but I'll definitely take a spin this season!
Finally, if you're planning on a trip to Coney, make sure you stop at the Coney Island History Project on West 12th Street. They too will reopen on March 24th after working hard all winter to clean up the mess left after the storm. Exhibitions this season include an exhibit related to the storm, a look at Coney Island's iconic Wonder Wheel, and much more!
Ocean City, NJ
Playland's Castaway Cove will be getting seven new rides this season including a Technical Park 'Heavy Rotation.' The new ride will be dubbed Tropical Storm. Now that I'm excited about. Here's a video of the ride from Xtremerides.
[youtube]http://www.youtube.com/watch?v=KZyt4DjewY8[/youtube]
Keansburg, NJ (March 22 Update)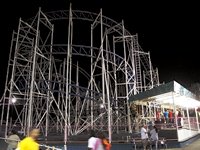 Looks like Keansburg Amusement Park has sold their Schwarzkopf Wildcat coaster. The park was severely flooded during Sandy with many rides damaged by saltwater, Wildcat being one of them. The ride sustained around $500,000 dollars worth of damage but that didn't dissuade a buyer from snapping it up. The new owner is Deggeler Attractions, a traveling carnival out of Florida, who will fix the ride up and possibly send it to various fairs around the country.
Keansburg Amusement Park isn't going to leave the space empty, however. The park purchased a Pinfari looping coaster, Looping Star at the defunct Sauble Beach Fun World in Ontario, CA, to replace Wildcat.
Also, I just found out some pretty bad news. Apparently the park's Spook House ride, the oldest known Pretzel dark ride built in the 30s, is confirmed to have been completely destroyed by the storm. Yeesh…now that hurts.
Miami, FL
It's always nice to see showmen willing to tout around a large, European funfair-esque ride in the US. That's exactly the case at the Miami-Dade County Fair in Florida as Vortex, another Technical Park ride, made its US debut at the fair. The ride is owned by Josh Macaroni and is booked in with North American Midway Entertainment.
Vortex debuted in 1997 and was owned by two separate French showmen before being shipped off to the US in February. There's at least two other Vortex rides in existence, one of which has outward facing seating as opposed to the inward configuration.
Apparently, the new owners had to do a few touch ups to the back flash before setting up as the original had a bit of nudity. Just some boobs, nothing major…nothing like this at least (NSFW)!
Vortex isn't unknown to The DoD3 as it landed the number one spot on the 6 Incredibly Odd Carnival Rides list back in 2009.
Here's a video of Vortex when it was in France.
[youtube]http://www.youtube.com/watch?v=gUSLXW8r-cE[/youtube]