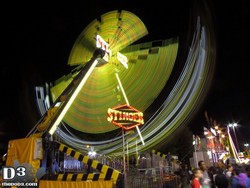 I've heard about this fair for a couple of years but never decided to go until this year. Actually, I almost missed it as I thought it was occurring towards the end of May as it did last year! Yep, despite doing a carnival list each year, I still forget when most of them occur.
I left for the fair just before 7pm and arrived at 7:30. It's really not a long drive from my place, just an annoying one…and expensive thanks to the Goethals Bridge's $10.25 toll! I then waited about 15 minutes to get an admission ticket ($5). The midway was done by Reithoffer Shows and had quite a few major rides:

Stinger
Wild Claw (KMG Fireball)
Sky Flyer
Wild Mouse (Zamperla spinning mouse)
Super Himalaya
Orbiter
Pharaoh's Fury
Avalanche
Gentle Giant (Chance Giant Wheel)
Sizzler
Scooter
Fun Slide
Tornado (Wisdom)
Haunted Mansion
Funhouses (Roc N Roll, Crystal Lil's)
Carousel
A selection of kiddie rides
A number of games
Greasy treats galore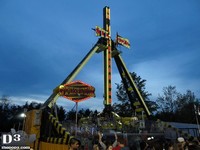 The lot seemed small (to me) but Reithoffer managed to pack in quite a few rides. The big ride was Stinger, a Technical Park Loop Fighter. The ride commanded a massive line for the entirety of the time I was there; mostly due to the fact that Stinger holds a paltry 16 passengers max. Due to the line, the ride cycle was less than 2 minutes and omitted the seat flipping portion of the cycle. Why Technical Park even made the seats able to flip is a mystery to me since they're never unlocked when the ride is at full bore.  If they did, the ride would certainly be a wonderfully whiplash inducing experience.  Since I didn't have a wristband, there was no way I was going to ride. The ride was 8 tickets, or $10 bucks. That's as much as Reithoffer's KMG Speed ride, essentially an up-charge attraction.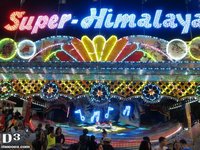 Super Himalaya, tucked near the back next to the giant wheel, was another ride that seemed to have long lines all night. Seems like they put some additional lighting on the ride since the last time I saw it. The ride ops were working the mic as well as lights, all while playing mostly clubby music. It's like the ride ops knew they were in the classic epicenter of guidodom and chose music accordingly! Didn't hear Sandstorm though…that's a shame.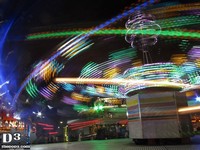 On the opposite side of the fair, Wild Mouse, Sky Flyer, Avalanche and Orbiter hung out. Wild Mouse, being the lone, non-kiddie roller coaster, had a large line all night. I'm surprised that I never noticed that Zamperla Spinning Mouse rides have the station in the front, rather than on the side. This lead to four or so cars stacking up in the brakes before entering the station. Reverchon models have the station on the side, allowing for passengers to exit almost as soon as they hit the brakes.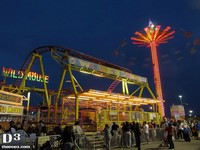 I did a few laps around the fair, getting photos and a video of Stinger before heading out at around 10pm. On the way out, I saw a car full of teens get pulled over by a cop. Since I went out the wrong exit, I had to make a u-turn which led me past the pulled over car. As I rode by, the cop had the driver pinned up against the car, sticking his hands in the guy's pockets. This was like a minute after I first saw the car get pulled over mind you. That sure escalated quickly!
Here's a bunch of photos, make sure to check em' out!
Finally, here's a video of Stinger.