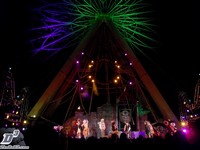 So here it is, the final Six Flags Great Adventure trip report of the season. Now considering that I've recently posted two other Great Adventure trip reports, I think it would be boring to do another in a similar style to the others. Instead, this one will be composed of one or two sentence descriptions along with linked photos (pic) to go along with some of them. All right, let's go!
I arrived at Great Adventure at around 6:00pm. A little more crowded than usual, but it didn't look too bad…uh, I actually don't have a picture for this…yeah, this is starting off great.
As soon as I entered, I heard the thumping music from Dead Man's Party playing (pic), so I ran over to check out the show. I'm not really a show person but it was pretty good!
The fireworks near the end scared the hell out of me though (pic).
Went over to Nitro next, which had a line starting at the end of the switchbacks…ugh. I waited about 25 minutes before boarding (pic). Sat in the back with the lapbar down loosely; now that's a rush!
I checked out Batman next, but that had a line extending out of the building, so I passed. It probably would have been a 25 minute wait as well, but most of that time would be spent in Batman's dingy, chewing gum plastered, unventilated stairway; no…thanks…
Headed for Skull Mountain next which had a station wait, which is good because any longer wait for Skullie would be a complete debacle on ice. Sat in the back and enjoyed the super airtime drop.
Next I watched the Wheel of Fright show where people eat weird stuff for a season pass or day ticket to Six Flags. This particular woman (pic) ate a concoction of just about every condiment possible mixed into a delectable 'shit shake.'
It was quite the scene (pic): she almost puked; the head ghoul looked on urging her to vomit; and the maid encouraged her on while looking oddly hot.
Next I hopped aboard Fantasy Fling (pic). It was a fun ride, and even more fun to watch the group of kids get yelled at by the ride op for random on-ride antics.
Then I stopped to check out a band playing at the Lakefront Stage (pic). They had a female vocalist, a male metal/rapping vocalist, lots of power chords being played and an equally abundant amount of ring outs…they sounded so generic (video)…
Freebie Terror Trail was next. Some ghoul outside was singing opera outside the gates (pic), it was pretty awesome.
Hey look, the Ghoul Master (pic)!
Next I walked over to Bizarro…oh, well look at this (pic)…guess I'll be riding it next year!
I traversed the bridge and headed over to El Toro…only to encounter another full queue line…damn.
Out of sheer curiosity I walked over to Kingda Ka to see the line…must have been an hour wait…pfft.
Oh boy, this has shaped up to be a trip lacking in rides. I decided to head on over to my ol' buddy Great American Scream Machine (pic), which never fails to greet me with a nice short line.
I walked through the entrance of Scream Machine and happily made my way down the vacant queue lines while watching the trains fly around the course. Ah, it feels good to find a ride with no line tonigh……………………………………………………….(video)! WHAT IN THE HELL IS THIS (pic)?!??!
So I waited! I waited about 15 minutes to ride Scream Machine; a 20 year old looping coaster. It was great though! The coaster that is…
I didn't even check Superman: Ultimate Flight's line; if Scream Machine had a line then Superman would certainly have one that could make a Saw trap (pic) look like a better option.
I decided to ride Elvira's Superstition, a theater based simulator ride for Fright Fest. I waited about a half an hour (pic)…blah.
It was kind of cheesy but a lot more fun that Mach 1 Adventure, Dino Island, and Fly Me to the Moon…but about on par with Spongebob 3D.
My final ride were the Enchanted Teacups (pic), where I attempted to spin myself silly (pic). If the cup had some more grease on the bearings, I probably would have hurt myself.
Before leaving, I raided a gift shop and bought one Scream Machine glass, a Scream Machine double shooter, and a Kingda Ka shooter. Check em' out! (pic)
I left at around 10:30pm. Until next year!