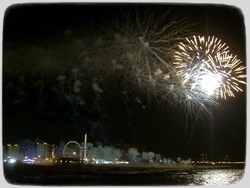 Thor Equities and developer Joe Sitt have finally released their grip on some of Coney Island's prime beach front real estate, namely the former Astroland site and some boardwalk property. According to city officials, the purchase of approximately 7 acres cost the city $95.6 million. The city had originally inquired about purchasing 11 acres from Sitt, however the asking price was "well over $100 million." The purchase is a step closer to mayor Micheal Bloomberg's plan to preserve Coney Island's amusement district as well as add year round attractions to the area.
According to Newsday, the city now owns 92% of the land needed for the proposed 12 acre amusement district. However, according to Juan Rivero of the Save Coney Island organization, the city still  needs to purchase a bit more of land from Sitt or the project may be stymied indefinately. Rivero states that the current property owned by the city is  "squeezed in by a proposed multi-story entertainment mall and blocked off by a wall of proposed high-rise hotels." So while the saga of Coney Island's land dispute continues, we may very well have reached the climax of this particular story with these recent events.
Source: Newsday: Developer sells 7 acres of Coney Island to NYC
You can also read the press release and watch a 30 minute video of the press conference with Bloomberg and Sitt at the NYC.gov site. For anyone interested in seeing what Sitt has to say, he appears at around 20:30 in the video.