First fair of 2019! I had planned to go to the Middlesex Fire Dept and Saint James carnivals the weeks prior but, well…that didn't happen. First time I had missed the Middlesex fair in eight years – no good. Anyway, rides for the OLP Country Fair were once again by Blue Sky Amusements and the fair had…
Polar Express
Vertigo
Zipper
Paratrooper
Sizzler
Chair Jet
Monkey Maze
Fun Slide
Toon Town
Tip-a-Canoe
Quad Runners
Flying Dragons
Elephants
maybe like one more kiddie ride?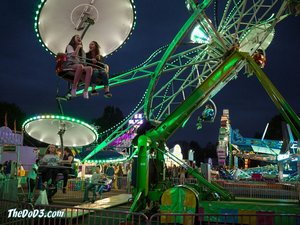 Saturday was going to my photo night as the Friday forecast called for storms to roll through during prime-time fair hours. Weeeeell, Friday turned out to be a nice night, and while Saturday was nice for the most part, it started to get rainy after about 6pm – hours ahead of the forecast. Wonderful. The kicker is that I was actually there on Thursday to grab something to eat and didn't bring my camera because "meeeeh, Saturday will be nice! I'll get all the photos then!"
The carnival was smaller this year with several rides taken out of the lineup, most notably the lack of a Ferris Wheel. While walking around I actually overheard several people remark about there being no wheel.
All of the major rides were lined up in the back row with Monkey Maze flanking the north end of the lot. Paratrooper was running this year and it looked fantastic! I like how not only the outer edge of the bonnets have lighting but the undersides as well. There was a big line for it on Saturday night. It was kind of weird, it seemed like the lines were big for most of the rides, but the rest of the fair was on the slowish side. Maybe the drizzle cleared out most of the bystanders leaving the families that had bought tickets to get their rides in.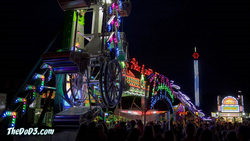 Polar Express was playing (louder) music this year with the ride op blowing the horn to the beat at some points. Zipper was next door and had a massive line because it's an awesome ride (and slow loading, but more because it's awesome.) Blue Sky's Zipper looks better in person than in any photo I've taken of it. Chair Jet was in its usual south corner spot; looks like this swing really hauls for a family-style swing ride! The other swing ride, Vertigo, was on the opposite side of the lot.
For the most part I was just dodging intermittent raindrops, but it started to pick up in intensity after about a half an hour. I had gotten enough photos for a trip report, so I decided to grab some zeppoles and head out. Later that night it rained like heck; must have been a lovely teardown. Could be worse, it could be a grass lot!