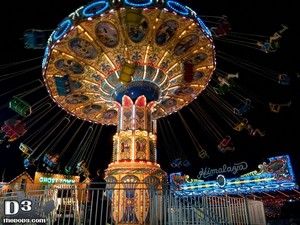 On Saturday, August 15th, I headed over to the Hillborough Rotary Fair in Hillsborough, NJ. I looked over Google Maps on how to get there. Last time I took Route 22 and some backroads, but I felt like taking all highways would be the best way to go this time. Well, it would have worked out fine if I thought that the fair was on Rt. 206 and not Rt. 202. I headed like 10 freaking miles down the wrong highway before thinking "hey…I should be there by now." I eventually got back on track and made it to the fair at around 9pm after wasting a half an hour.  Parking for this fair was a snap as the fairgrounds border a large shopping center.
Majestic Midways was running the rides. I usually see this show closer to my locale at the St. Barts Italian Festival, but it's a much smaller fair compared to this one. As a matter of fact, this is actually a pretty big fair ride-wise! The fair had…
Power Surge
Himalaya
Super Shot
Zipper
Rainbow
Wipeout
Wave Swinger
Sizzler
Ring of Fire
Scooter
Ghost Town
Century Wheel
Kite Flyer
Carousel
Several kiddie rides (Tea Cups, Rockin Tug, Orient Express, Bumble Bees,  Barnyard, Hampton Cars, a few more.)
Many food vendors
A number of games
Petting zoo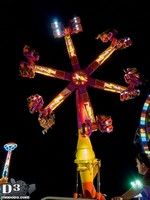 The entrance to the fair was adorned with a Majestic Midways arch. Just outside the gates were a petting zoo and pony rides along with a few vendors and community booths. When I got there, the fair was somewhat crowded but the rides weren't getting a whole lot of action. The fair had a few rides that weren't there the last time I last visited. The first of which was a Zamperla Power Surge. This had the usual stock colors (pink/yellow/orange) with orange/yellow-ish lights. If I had a pack to put my camera in then I certainly would have taken a spin.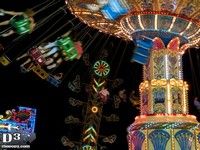 Wave Swinger, Ghost Town, and Zipper were the other three I hadn't seen last time. Wave Swinger was a Bertazzon model that several area parks have nowadays. Ghost Town is an Owen dark ride themed to the Wild West. Zipper is of course a Chance model of the same name. This one had the updated pods and a cool yellow, aqua, and orange color scheme.
In between Zipper and Ghost Town were Himalaya and Super Shot. Himalaya was a Wisdom model with a predominantly red color scheme. The ride was equipped with an air horn that the ride op sounded off liberally. Super Shot is an ARM drop tower that simply lifted riders to the top and dropped them. I remember riding one of these that actually lived up to the name and shot the ring of seats to the top before dropping it (Note: that was a Chance "Sling Shot" apparently.)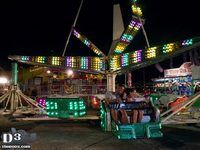 Sizzler sat in the middle of the midway between Wave Swinger and Power Surge. This ride really moves; probably the fastest Sizzler I've ever seen! Wipeout and Rainbow sat in the corner of the midway. Wipeout seemed to be getting a pretty good stream of riders while I was there. Rainbow wasn't so highly trafficked. By the way, this is an ARM Ali-Baba with a Rainbow theme, not a Huss Rainbow which is a similar ride but higher and with more capacity.
Ring of Fire and Scooter sat near the front of the midway with numerous kiddie rides at the very front. The final big ride, a Chance Century Wheel, was placed amongst the kiddie rides. I did a couple rounds of the fairgrounds before heading out at around 10pm. Cool fair overall…too bad I wasn't able to get there earlier though!