I stopped by at the fair held by Corpus Christi Church in Chatham, NJ on Saturday, June 10th. It's a small fair not too far away from me. I headed up there around quarter after 8 and parked in a neighboring church's lot. The rides were brought in by Tommy's Midway and the the fair had…
Paratrooper
Loop-O-Plane
Sizzler
Swinger
Fun Slide
Monkey Maze
Several kiddie rides (Tea Cups, Hampton Cars, Flying Fish, Groovy Bus)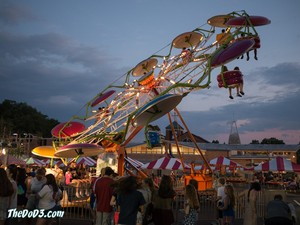 The big ride at this fair was Paratrooper, a rim driven model. I haven't seen one of these upright rim driven models in literally 20 years…man, I feel old saying that. Seriously though, I think the last time I saw one (and rode one) was in the late 90s at the Meadowlands Fair. Anyway, the ride looked pretty good with flashing Turbo lights on the sweeps and a white, orange and green color scheme with multi-colored caps on the seats. The ride looked like it went pretty fast! If the line wasn't wrapped around the ride, I may have taken a spin myself.
Loop-O-Plane also commanded a sizable line on this night. The ride had a red, white and blue color scheme along with multi color Turbo lights, some LED strips on the front arm, and a Tommy's Midway logo on the center medallion and electrical box. Interestingly, the ends of the counterweights had Goodtime Amusements logos, a Pennsylvania based show. The ride revolved in both directions with a slow loop at the end for some hangtime.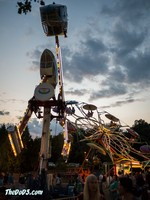 Sizzler was in the left corner. This had white LED tubes on the sweeps and a center ornament with some flashing LEDs. One of the sweeps actually spun faster than the center, which was strange. Not as strange as the Sizzler I saw with both center and sweeps going the same direction, however. Swinger looks to have been redone with orange and green LEDs on the sweeps and white lights on the center support. It was like an Irish swing ride.
The kiddie rides were all on the right side of the midway and practically desolate when I got there. I'm guessing most of the families with small children had gone home by that time. They had this Flying Fish ride that actually looked like fun. If only I was 5 years old again. The games area had a row of trailers with chance wheels, a ball roll game, knock over the X, and some others. There was also a center joint Frog Bog/ball toss combo, water gun race, duck pond, balloon dart, and speed pitch.
I stuck around for like 40 minutes before heading out.