The fair season is pretty much over in these parts, with just street fairs and fall festivals going on until it gets too cold out. I actually went to a few more carnivals this year than I wrote about, so here's some mini trip reports on them!
St Vincent de Paul Carnival
This year was St. Vincent de Paul's second annual carnival. McCafferty Enterprises brought in the rides and they had…
Slingshot (drop tower)
Hang Glider
Sizzler
Dizzy Dragon
Fun Slide
Orient Express
Fun House
Several kiddie rides: Dinosaur ride, Hampton Dune Buggy (?), swinging ship, bounce house
Live entertainment, several games, lots of food, beer garden, and more!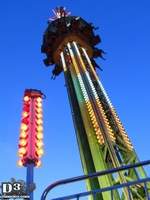 I headed over on Saturday May 30th at around 8pm. I didn't have a whole lot of time so I wasn't able to stay for the fireworks at 10ish or so.
The ride lineup was switched around a bit from last year with Sling Shot and Sizzler taking the place of Gravitron and Round Up. Sling Shot is an ARM drop tower. Despite the name, it doesn't launch riders to the top.
Sizzler was an older model that had the sweeps and arms all rotating in the same direction. I remember this one well from MusicFest back in 2011 thanks to the strange, all counterclockwise motion. It was actually running slightly faster here which meant that it probably pulled some big lateral Gs!
Food and games were mostly restricted to a length between the entrance and main ride area. It had quite a lot stuffed in there with chance wheels, knock over the [item] games, Shoot out the Star, watergun race, high striker, and speed pitch.
Corpus Christi Parish Carnival
I missed this carnival last year! This was the first carnival that I brought my new camera to, but I ended up with a lot of bad shots because I wasn't familiar with it. I went on the final day, June 6th. The rides were brought in by Tommy's Midway and had…
Rock-o-Plane
Round Up
Loop-o-Plane
Sizzler
Kite Flyer
Fun Slide
Several Kiddie Rides: Dragon Wagon, Flying Bug, Kiddie Swing, Fun House, modified train ride
A handful of games
Several food stands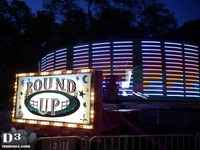 Round Up…whoa. Okay, so I remember this thing being pretty rinky dink back in  the day, but they've cleaned it up a lot since the last time I've seen it. The ride has sequenced LEDs in place of turbo lights that go through different color patterns and even do a rainbow type of sequence. That thing looked great! Rock-o-Plane also had some LED lights.
Tucked in the back was Kite Flyer which I couldn't even get near due to all the people waiting in line/standing around. On the far end of the lot was a Dragon Wagon and Sizzler. The Sizzler had florescent light tubes on the sweeps and a painted sign it looked like; it was getting kind of dark by this point so I couldn't make it out too well.
Loop-o-Plane sat on the left side of the midway, in the middle, but was down the entire time I was there.
St. Bartholomew's Italian Festival
One of the closer fairs to my locale and the final fair of the season for me. Majestic Midways brought in the rides, and the fair had…
Wave Swinger
Ring of Fire
Wipeout
Hustler
Sizzler
Scooter
Ghost Town
Merry go Round
Rock n' Tug
Several kiddie rides
Lots of food, live entertainment, games, and more!
I headed over to this fair on Labor Day. Much like last year, it was really hot out that day. Seemed like a lot of the parents were hiding out in the shade cast by Ghost Town while their kids rode the rides. I only stayed for maybe 20 minutes before heading out.
In terms of rides, it was actually a little larger than last year with a couple of additions, namely Sizzler and Hustler. Sizzler took up a spot in an alcove next to the school; Kite Flyer was in its spot the year before. Hustler was probably the nicest I've ever seen. It was multicolor and had the ornaments on the signage and entrance/exit ramps. It also went quite a bit faster than most other Hustler rides I've seen in the past.