With the theme park season underway, I decided to head down to Great Adventure on Monday, April 18th, to not only get on a few rides but to redeem my season pass as well. I got to the park at around 3:30pm in attempt to avoid the crowds, it kind of worked; the lines were still too long for my tastes when I arrived but an hour in and they would die down significantly.
Green Lantern, scheduled to open on May 25th, loomed over the parking lot in a similar way that Great American Scream Machine did for 21 years prior…however GASM was much more imposing I think. I entered the park and immediately headed for season pass processing. I heard that opening day saw massive lines at the season pass processing area, evident by the maze of temporary rope queues; luckily I only had to wait a few minutes when I went.
Afterwards I walked around the park, checking out what was improved or added along with looking at ride waits. As always I took the path through The Boardwalk into Golden Kingdom. I skipped checking Kingda Ka's line and headed for El Toro…only to find that the connecting path was closed for Funstruction! They're building some addition to Golden Kingdom with more animal exhibits and such, don't know when it'll be finished though.
I took the long detour to El Toro which was running one train and had a line backed up into the second set of switchbacks; Bizarro also had a line spilling into the second switchback area; Rolling Thunder had a stairway wait for the right track which is still too long of a line since, like El Toro, it also had one train running…actually it's worse since RT loads at a sloth-like pace. Runaway train even had a bit of a line! Come on!
I went to the other side of the park: Nitro had an OK line with two trains running; Batman, on the other hand, had a line extending out of the building with ONE TRAIN RUNNING. That is not a wait I'd like to take part in. I didn't see a line for Skull Mountain after peering through the cutouts in the building, but I still could have been trapped by a wait just around the corner.
After walking around a bit more, I found myself back at Bizarro and decided to just wait. Bizarro was running two trains with the wait being about 20 minutes. Bizarro itself was fun as always with the fire and sound working. I did notice that the auger prop was removed from the corkscrews however.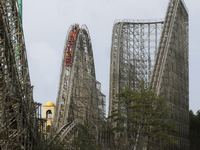 Next I  went to El Toro which was now running two trains; the wait was maybe 10-15 minutes. A guy got into the row with me along with his wife and kid in the seats ahead of us. As the train swiftly ascended the lift, they noted in surprise that it was "faster than other wooden coasters." They obviously hadn't been on this ride before and I knew they were in for a ride unlike any woodie. As the train went down the drop, the guy next to me raised his hands and then immediately grasped the handle bar as the train continued to pitch downward to its final 76 degree angle. By the end of the ride the kid in front of me was grasping the handlebar, frozen in shock before noting that this was his first wooden coaster. Baptism by fire anyone?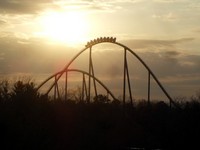 I headed over to the other side of the park once again and hopped on Skull Mountain, which had basically no wait at all. I took a ride in the back seat with a pretty fair sized clearance between the lapbar and myself resulting in me nearly landing in the seat next to me during the drop. Next I got in line for Nitro which had a wait starting at that in-line snack shack that's barely used. I sat in the second to last row as the last row had bit of a line. I always forget how much airtime Nitro has after the long off-seasons; it's not El Toro ejector air, but there's some serious floater air going over all the hills!
Afterwards I got in line for Batman, which line had died down significantly from before. They were still running one train and the wait turned out to be maybe 10 minutes; it also helped that I jumped into an open seat when I saw the opportunity, shaving off one cycle to the wait. I'm not sure if all Batmans ride like Great Adventure's but its gotten a bit rough over the years. It's not nearly as bad as some loopers, but for a B&M it's sort of rattly.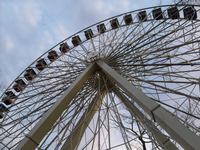 I ended the trip with a ride on the Big Wheel, and got shuffled into a car with a father and his young daughter. That's better than being in a car with a bunch of  annoying teens but still, there's 36 cars and pretty much no line, can't I get my own car? Nonetheless the view was nice with the trees not yet in full bloom, giving a clearer view of the park. I left the park at around 7:30pm (park closed at 8pm that night.)