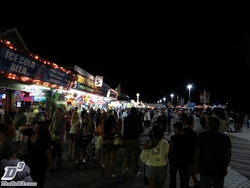 Moving retrograde from the last trip report, on the night of August 17th I decided to head down to Seaside Heights, NJ to see what was going on. I hadn't been to Seaside at night in years and for somewhat good reason; after all it's not called 'Sleazeside' for no reason. The drive was maybe 15 minutes from Brick, NJ. Upon arriving I found a meter spot towards the south end of the boardwalk and fed it a fistful of quarters (one quarter gets you 10 minutes, one minute over gets you $45…and I'm sure the meter maids were out in full force that night.)
In almost comical fashion, less than 2 minutes after leaving the car I overheard two spiky hair guido guys conversing about how someone had "came at them" in a club. Oh boy, here we go. The boardwalk was pretty crowded, probably because of the fireworks being held that night, which I had no clue about until after arriving.
I stopped at Funtown Pier first being the nearest pier to where I parked. The pier featured two new rides this season, the Moser manufactured Typhoon and a Huss Top Spin 2. Top Spin, which was unfortunately down that night, looked eerily similar to the Top Spin that used to reside at Astroland in Coney Island. If it is, then they really did a number on the backflash as it was simply painted white; I can only hope they have something nice planned for that because it would be a shame to just leave it blank.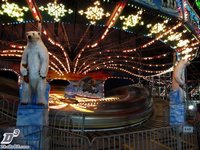 Typhoon, on the other hand, was running and looking great as well. If I go to Seaside again I'll have to take a spin on it despite my rapidly decreasing tolerance for pendulum style rides. Both rides are kind of a shot in the arm for Funtown Pier as it's kind of regarded as 'that pier with all the older rides with a massive drop tower plopped in the middle.' Although their Wisdom made Arctic Circle is pretty cool; you really don't see those around too often. Hopefully Funtown will continue to add quality rides to their collection (*cough*hussbreakdance*cough*) and give the other pier a run for their money.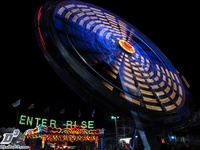 I made my way up the boardwalk to Casino Pier, the second amusement pier in Seaside. I honestly have to give them credit, they really have a great selection of rides with a lot of attention paid to flash and lighting. Their Huss Enterprise is probably the nicest I've seen around despite not having the backflash installed. Interesting aside, this is actually the same Enterprise that used to be at Astroland prior to its replacement by Top Spin 2. Interestingly the ride also has an air horn which seemed to only be used in order to scare people away from the railing in front of the ride while it was in motion; really, if that's a problem, why not just move the railing forward?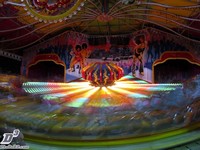 Casino Pier also has a Bertazzon Musik Express that looks like it came straight from the European funfair circuit. The ride has a loud sound system, strobes, siren, fog, nice flash, nice cars and even a freaking bubble machine! On top of that it was also run fast forwards and backwards. If the line wasn't so God awful that night I would have totally shelled out whatever they were asking to take a spin on it. The flashiness of it lessens the agony of the fact that an awesome and horribly fast Reverchon Himalaya model stood in its place for years prior to its replacement.
Along with those two rides the pier also has a Zamperla Disk-O, and indoor Scrambler called Centrifuge, two roller coasters (a Wild Mouse and a Miller coaster named Star Jet that replaced a Schwarzkopf Jet Star many years back) and a highly regarded dark ride called Stillwalk Manor among a mound of other rides. Casino Pier seems to be where it's at for major rides in Seaside, but to be fair the pier is also owned by Jenkinsons who have quite a few ventures around the shore area and probably have a lot of money to pump into the place.
The fireworks started at 9:30pm and lasted maybe 10 minutes. They didn't seem like they were pro-grade display fireworks, more like a bunch of consumer firework cakes daisy chained together. Nonetheless it had a lot of action and did end with a bunch of legit sounding salutes. Afterwards I slowly made my way back to the car through the throngs of people and managed to leave just before the meter expired.
Finally, here's a video, because everyone loves videos.