NBYSF is a carnival that occurs every June in North Brunswick, NJ and as the name implies, it's a fund-raiser for the town's youth sports organization…and for a fund raising event this fair is actually pretty freakin' big! Reithoffer Shows supplied the amusements, sharing the fairgrounds with vendors, freak shows and animal shows. The fair had:
Tango
Slingshot (Shot and drop tower, not running that night)
Wild Claw (KMG Fireball)
Crazy Mouse
Zipper
Orbiter
Himalaya (Wisdom)
Pharaoh's Fury
Gentle Giant wheel
Yo-Yo
Cliffhanger
Sizzler
Starship 3000
Tilt-a-Whirl
A massive amount of kiddie rides
A selection of games
A few funhouses
Lots and lots of food
Attractions included: 2 freak shows, bear show, tiger show, racing pigs, petting zoo.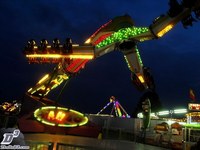 Yep, it's a big fair! Although I was hoping to see Reithoffer's Huss Tornado but it just wasn't to be. Instead I took a spin on Tango for $6.25, which is a little more than I'd like to spend on a one minute ride, but whatever. I was a little worried about the contents of my pockets spilling out on Tango since I didn't bring my drawstring backpack to keep crap in, but in the end everything went better than expected. I made a video of Tango at last year's NBYSF fair, check it out if you missed it!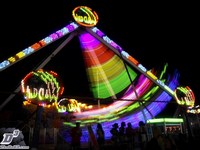 As for other rides, Wild Claw looked like it had been redone with new lighting and a working claw (last time I rode the claw wasn't spinning!) It looked great with a purple, gold, red and yellow lighting scheme. Speaking of nice looking rides, Yo-Yo was also tricked out with LEDs, although this ride was rehabbed last year as noted in the 2010 NJ State Fair report. It's still probably the best looking Yo-Yo out there.
Cliffhanger also looked like it had something done to it, new lights maybe, I'm not sure; it just looked good…of course I couldn't get a good picture of it so you'll just have to take my word for it. Really I may as well just save two more paragraphs of adulation and say that all of their rides looked really nice; the photos prove it! The only one that was a little less great looking was Orbiter with i's missing center globe and half-lit cars.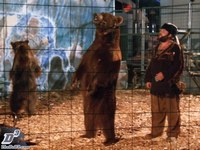 As noted there were quite a few shows and I actually stopped to watch the bear show as I've never really seen one before. The two bears did a few tricks such as waving, clapping, going down a slide and such. One of the trainers actually picked the smaller one up and walked around with it in a fireman's carry position.  The bears also walked upright on two legs a lot, which was kind of funny as they shuffle when they walk making them look kind of bumbly.
I left at around 10:30pm, spending about two hours at the fair in total, and dumped a bunch of hand sanitizer on my hands once I got back to the car because I'm a germaphobe.