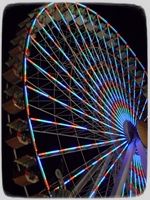 It's almost a tradition now that in wrapping up the annual family vacation down to Wildwood, NJ that my sister and I get all day wristbands for Morey's Piers. In previous years we would also get a waterpark pass as well, but we decided not to since A. it was perfect beach weather, and B. The waterparks would be mobbed.
We got to the boardwalk at about 1pm, purchased the wristbands ($46 each!!!) and headed right for the Zoom Phloom as it was like 90 degrees out with humidity. Zoom Phloom is an O.D. Hopkins manufactured log flume that been on the pier since 1985 and is still one of the most popular rides on the pier. The flume has two steep drops and a section that goes under the boardwalk. The part under the boardwalk was once themed as a cave but is now themed as, appropriately enough, "under the boardwalk" with murals of old Cheveys, couples sitting together, and with 50s music playing. There's also a big sea serpent model with red eyes at the end; I personally think it should spit water at riders but instead it just stares at passers by.
After taking two spins on Zoom Phloom, we headed over to Great Nor' Easter, a compact Vekoma SLC. To be expected the ride was rough but still pretty fun. During the day you get to see just how close you come to the supports, waterslides, and log flume which can either be exciting or terrifying. I like how Morey's Piers bills the coaster as flying through a storm basically;yeah, that's what it would be like I guess, turbulence and all.
Next was Dante's Dungeon, a large dark ride that been on the pier for quite some time. As soon as the car entered the double doors, some costumed guy leapt out at us; they don't waste any time here. The ride travels through two floors with props around every single turn. At the final turn another guy (or the same one for all I know) jumped out to send us off. Here's the first bank of pictures for your viewing pleasure: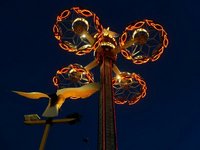 Next I went on Condor, a Huss spinning/tower ride. During this season the Condor had a speed change; It's still a pretty family oriented ride, but it spins much faster now. At the top the ride still slows down for a minute or so before descending. It's a great ride but it loads slower than heck. We went on Doo Wopper afterward; it's a wild mouse themed after…well I want to say it's themed after the Doo Wop era, but in actuality it's themed after fast food.
Atmosphere, err, I mean AtmosFEAR was our next stop. AtmosFEAR is an ARM drop tower that stands at around 140 feet. The car rises painfully slow and plays a recording to heighten the suspense. The the top the car immediately disengages and you plummet to the brakes. It's not a bad drop tower at all, and you get some major airtime on it.
We hopped on Zoom Phloom once again and then on the Giant Slide, Morey's Piers' first ride. There was only like 6 people in line but it still went ridiculously slow. At night, the line for this ride gets just stupid long; I cannot imagine waiting for it then. Our last ride on the pier was Flitzer, an old Schwarzkopf coaster…shoot, I remember this coaster being a lot bigger; I think the last time I rode it was about 8 years ago.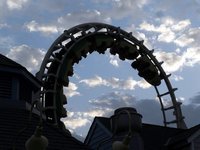 After Flitzer, we hopped on the tram (free with wristband until 6pm) and went to Mariner's Landing. Unfortunately the tram stopped like every 10 feet for the first leg of the trip; we probably could have walked faster! Anyway, at Mariners we went on Wave Swinger first. We got in line as the ride op was still loading yet he proceeded to start it anyway; I think Moreys has a policy that once they start securing passengers, they don't let anyone else on. Not much to say about the ride, it's your standard Wave Swinger.
Next we went on Sea Serpent, a 1984 Vekoma Boomerang. For an older ride it still runs pretty well and is very smooth compared to some other Vekoma coasters. We went on Musik Express next, which ran forwards and backwards on a long 4+ minute cycle. My one gripe is that they go nuts trying to balance this ride when loading; they made my sister and I move 2 cars forward before starting. I didn't even know a Himalaya needed to be balanced actually!
I think we went on Rollies Coaster next, it's a new-ish Pinfari Zyklon model with harness restraints. It's not too bad but the brakes are of the stop on a dime variety; make sure to have one hand on the grab bar or be slingshotted into the harness. Finally we went on Pirates of the Wildwoods, a dark ride that uses boat cars and 3d glasses. It's a funny little ride that sees undead pirates waging war on the bennies (and more bennies) and shoobies that flock to the Wildwoods during the summer.
Later on we repeated some of the rides on the first two piers as well as going on Adventure Pier, or whatever it's called. On Mariner's Landing we went on the pedal ducks that travel around the waterpark . I would have done this ride during the day, but I probably would have died trying to pedal the thing around turns in the daytime heat. We also went on the newly relocated Bumper Cars, a ride that replaced another set of bumper cars that were destroyed in a fire last season. They absolutely packed the cars into this ride which caused huge jams at certain points. Luckily I was able to muscle my car through the jam and cruise around the side. On the other side of the floor I was met by a bunch of cars swarming around, breaking the one way rule in attempt to avoid the jam. Seeing as this was now a free for all situation, I happily motored into some guy head on. My sister's car on the other hand was trapped within the mish mosh of vehicles…well, that sucks!
On Adventure Pier we rode Great White, a CCI built wooden coaster, three times. I personally think this is the best coaster on the boardwalk, I mean it's up against a Boomerang and SLC! The coaster is pretty rough, but it is a woody so it's to be expected. At night the coaster runs very fast; noticeably faster than during the daytime.
We also took customary trips on Jersey Junkyard and Curse of the Mummy 3D, a ride through and walk through dark ride respectfully. Jersey Junkyard is just a piss poor dark ride, but needs to be ridden if you have a wristband. The stunts are fairly bad, it's short, and the line actually gets long sometimes. Curse of the Mummy is also a pretty mediocre walk through, but better than JJ. They actually had some costumed guy walking around this season, which scared the hell out of me seeing how unexpected that was. We also took a spin on the Tilt-a-Whirl which got new cars this season, as seen in the photos below.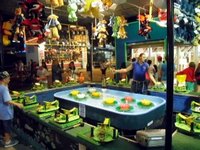 Along with riding the rides we also checked out the plethora of stores lining the boardwalk. I ended up buying a bottle of hot sauce to compliment my collection. We also played a game of Frog Bog on the boardwalk; you know, that game where you try to catapult a rubber frog onto a lilly pad. The dude running the game, who kind of looked like Mike Patton of Faith no More fame, was totally awesome, screaming out lines like "looks like we got a weenah!" and sounding a train whistle when someone won.
I calculated the number of tickets I alone would have spent if I didn't use a wristband and it came out to 153 tickets totaling $130.05…we robbed that place!
Bonus TR: Ocean City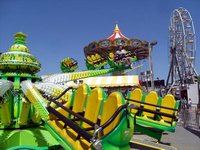 On the way back the following day, we decided to stop off in Ocean City. The only other time I had been there was in January, and the place was as barren as could be. It was a little different this time around. We basically just walked the boardwalk, but we did go on a ride called Tidal Wave at Playland's Castaway Cove. It's like a Satori Techno Jump or something. I've never seen one before and my sister thought it looked like fun, so we got tickets and hopped on. It's not too bad, although it would have been a lot more fun if I didn't have an iron stomach that doesn't get the 'butterfly feeling' anymore!