Event: Corpus Christi Carnival
Where: Chatham, NJ
Date: 6/12/09
Show: Tommy's Midway
The Corpus Christi carnival is a church fair that occurs every June. It's a pretty small event with about 4 'big' rides and a bunch of kiddie rides; the parking lot isn't that large so they really can't put too much in there. The fair lineup was…
Wave (a Chance Trabant)
Round-Up
Sizzler
Scooters
Ferris Wheel
Swings
Fun Slide
Euro Bungee
A fun house
A myriad of kiddie rides
Several carnival games
Some greasy treats stands
Arguably the big ride at this fair was the Wave, a themed Trabant ride. This was certainly one of the faster Trabant rides I've seen; the wheel spun at a very respectable speed as did the platform that makes the wave type motion. Actually the platform spun so fast at some points that the boarding platform sections would sway a bit with the motion of the ride! I wonder what the pair of ride ops were feeling up in the control position!
Next to Wave was a Scooter ride that actually had enough room to have a decent bumper car battle! Usually the portable versions are small as heck, leaving riders tangled in a traffic jam. On the other side of Wave was a small swing ride, a really small one actually. It was so small that a sedan with a hitch could probably move it.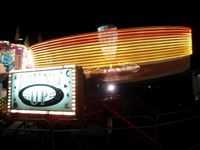 The fair also had a Sizzler with the center ornament decked out with blue LED lights, however it looked a little weird since the sweeps used large orange and yellow lights; I'm not sure if they were stock turbo lights though. Right next door, the Round Up also had some new lights on the center ornament; other than that it was pretty standard. During one cycle, in true Round-Up fashion, the ride op had to stop the ride and yell at a kid for screwing around.
Back at the other end, the Ferris Wheel looked pretty nice, a Big Eli model I believe. The Euro Bungee contraption was an interesting addition generating a huge line for it despite some 7 tickets to ride it. Finally, the Fun Slide was sort of tucked into the corner with a row of game stands in front of it.
It's a nice little fair but I feel kind of bad because it rained for two out of the three days! Like not even just passing showers but all day rain events. Here's some more photos of the fair:
And here's a video of Wave!