Check out the Fright Fest 2017 video!
October 18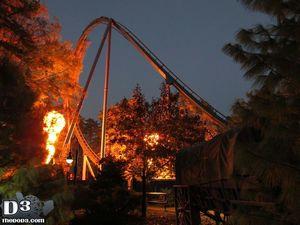 I headed down to Six Flags Great Adventure on Friday, October 18th, 2013 for my third trip of the year. I arrived at the park at around 5:45pm, 15 minutes after opening. Last time, I headed to El Toro first only to find it broken down. So this time, I headed to Kingda Ka first…only to find it broken down! So, I headed to El Toro and found it to be a station wait. I took a back car, front seat.
Next, I headed for Bizarro which, like El Toro, had a station wait. Actually, even better, it was a one cycle wait. While heading up, a nearly full moon was seemingly perched at the top of the lift. In the same vein, a little later on I overheard a couple of teens trying to figure out what the bright star was in the southwest sky. They guessed it was either "the north star" or a UFO (fyi it's Venus.) I hopped on Runaway Mine Train afterwards, which basically had a one cycle wait. I got into the green train, aka the one with the particularly ugly wraps.
At this point, I took the Sky Way instead of plodding to the other side of the park. Once exiting, I got in line for Skull Mountain, which was a crowded station wait. I ended up in the second to last car and was eventually joined by a girl whose family sneaked into the FastPass car. Unfortunately she slowly pushed the lapbar down to "nervous rider" angle as the train ascended the lift.
Nitro was my next stop which had a wait extending just beyond the stairway. I took third to last row, simply because it had the shortest line. The ride was a lot smoother than the last time I went on, leading me to believe that the vibration is limited to a certain train/row. Once I exited, I headed towards Dark Knight only to see that the doors had just closed. There were also masses of people leaving Dead Man's Party and going directly to Batman, which now had a garden wait (shudder.) Instead, I just kept walking towards Showcase Theater for no reason other than to walk into an area that's typically closed.
I started making my way towards the other side of the park again. On the way, I hopped on Deja Vu. It was getting pretty chilly out now. I saw some kids walking around in shorts and a t-shirt later on; they're effin crazy. I then got on Swashbuckler next, which was running a nearly full load. While heading towards Straw Man Stalkers, I saw that Blackbeard's Lost Treasure Train was loading and decided to get in the one cycle line. I hadn't been on Blackbeards in ages, mostly because I feel kind of silly on it seeing as it's closer to a kiddie coaster than a family one. The train did two circuits.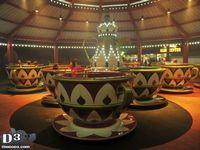 I walked through the aforementioned terror trail on my way to the other side of the park. I eventually jumped on the Teacups. Seems like the satellites spin up fast before the main turntable kicks in now, which meant that spinning the cup in the direction of the satellite was particularly forceful. I stopped to watch Doc Swan's Sideshow which featured him eating fire, escaping from a straitjacket, and swinging around a fake hand that was attached to his eyelids via fishhooks.
I thought about heading to Kingda Ka, but knew it would have a line that I didn't feel like waiting in. After wandering around a bit, I did something that I haven't done in probably 10 years, I rode Buccaneer. I can take spinning and flipping rides no problem, but swinging ships are my Achilles heel. Buccaneer runs for like a minute tops, so I took the risk. Since both ends were taken, I took a second to last seat. Good thing is that I didn't really get nauseous, although another minute would have gotten to me.
I walked over to Dead Man's Party and watched for a bit. I guess there's two shows they do as this one had more dance inspired songs instead of the campy songs they usually do. Batman still had a wait nearing the gardens which meant that it just wasn't worth it. Plus, that stairway always has a light bouquet of BO and ass, and that's just not fun to wait in. I did another go on Skull Mountain instead, this time getting a back seat as well as being able to leave the bar at "coaster enthusiast" position.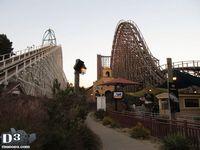 It was after 10 now so I started heading to Boardwalk to get on Green Lantern before calling it a night. On the way, I stopped to watch a band called Stitches who were playing to a crowd of 20 or so people. They were kind of a mashup of different metal and hardcore punk genres. The vocalist danced, shuffled and ran around the stage like he was taking cues from At the Drive In or something. I actually kind of liked the band.
I eventually got in line for Green Lantern which was just a single switchback long and about 15 minutes total. Since I had my hood up, I decided to leave my glasses on. Yeah, I'm never doing that again as they danced around on every little change of direction. While going up the lift, I saw that Superman had no line (!!!) so I took the opportunity to ride it. It felt pretty nice flying through the now below 50 degree air. I exited the ride as it turned 11pm and then speed walked out of the park to get ahead of the throngs of people heading for the exit.
What can I say? Pretty good night at the park!
October 25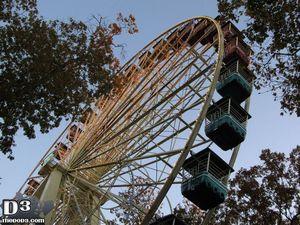 October 25th, 2013 was the final Friday the park was open. It was a really, really cold evening for going to a theme park with the temperatures foretasted to dip into the mid 30s. To prepare, I wore a heavier jacket, a hoodie underneath that, and Under Armour as a final layer. I also wore gloves intermittently, pulling them off to take a few photos and videos here and there.
I decided to head for the right side of the park for a change and hopped on Batman: the Ride first. There was a mess of people heading down the queue path and I was worried that there would be a line despite being a little after 5:30, the park's opening time. It ended up being a station wait. I took a back row and waited two trains.
Next I took a peek at Nitro, which I saw had workers trekking up the lift while heading for Batman earlier. It was closed with a modest line forming out the entrance, so I went to Skull Mountain instead. I waited one train for a backseat and was seemingly the only one in the back half of the train. The attendant pushed my bar down from "coaster enthusiast" position to "safety first" position. Blah. However, since the train was front heavy, I was absolutely whipped over the drop. Maybe the bar fully down wasn't such a bad idea!
I took Sky Way over to the other side of the park and went right for Runaway Mine Train once I exited. One train wait for this. I could have walked right through an open air gate if I got there a few seconds sooner. Bizarro was my next stop, which I thought was going to have a line, but had an almost empty station instead! I hopped into an open row and was on with nary a wait. This got my hopes up that the park wouldn't be as crowded as I thought it would be. I could have easily secured a front seat spot while exiting since a pair of seats were open, but decided to do it later…hey, it wasn't that crowded after all!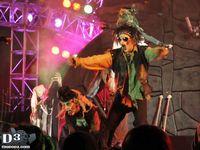 Weeeellll….I got to El Toro and found a full queue. What? This would be a recurring theme from that point forward. I walked over to Green Lantern and saw a line nearing the first set of switchbacks. No thank you. I ended up walking around and hitting some of the flatrides like Teacups, Swashbuckler and Fender Benders. I also stopped by Dead Man's Party and actually watched the entire show for once.
It was now 9pm and I was starting to get cold and hungry, so I decided to start wrapping things up. For my final coaster of 2013, I sucked it up and got in line for Nitro. I entered the queue and found it to be at the 120 minute sign; in other words, about 40 minutes. I waited for the back row and got probably the coldest coaster ride I've ever been on. It did feel pretty awesome flying through the sub-40 degree air at 80mph. Needless to say I was freezing once I got off though! I took my last flatride of the year on Sky Screamer, which now had a one cycle wait. I was more than ready to head to the car and crank up the heat once I got off that. I exited the park at around 10:30pm. Until next season…
Here's a video encompassing clips from both October 18th and 25th trips to the park.