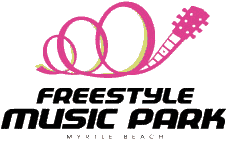 I haven't talked about Freestyle Music Park in Myrtle Beach, SC in a while. Seems like nobody else has really been talking about the place either! The park has been standing but not operating since 2009 with no entity willing to resurrect what may be the biggest flop in amusement park history. Apparently, enough was enough as the rides are finally being sold off individually instead of waiting around for new ownership.
Used ride brokers Ital International have many of the rides from Freestyle Music Park listed on their site. This includes Time Machine, a multi-million dollar B&M looper along with the lovable magic mushroom themed Huss Airboat that I'm sure would be a great fit for any park (no, seriously, grab that ride Great Adventure.) Other coasters like Round About and Iron Horse are also listed as well as many flats and children's rides.
For anyone who isn't up on Freestyle Music Park, it originally opened in 2008 as Hard Rock Park after some $225 million went into developing the place. It was projected that the park would see 3 million visitors the first year, but thanks to poor advertising and the economy, the park never hit that figure. The park was then sold for a paltry $25 million and reopened in 2009 as Freestyle Music Park. The name was changed due to the fact that "Hard Rock" is a trademark of Hard Rock International (Hard Rock Cafe, you know) and that the new name would attract more families. See, when I thought of "Freestyle Music Park," I thought of that horrible 80s/90s music of the same name!
The park once again saw less than stellar attendance in 2009 despite slashing entry and season pass prices. The economy likely played a large factor, but another reason thrown around was that the park, while in Myrtle Beach, was simply too far away from the actual beach and thus too far away from the action (about 3 miles from the strand according to Google Earth.) The owners hoped to open in 2010, but were unable to do so after debts caught up with them. Four years later, here we are! Maybe you'll see an FMP ride coming to your home park!