Worlds Tallest Roller Coaster to be Built
It's being reported by Screamscape that a pair of PolerCoasters are confirmed to be built, one of which will break the height record currently set by Kingda Ka. Representatives at the 2013 IAAPA Trade show revealed that a 325 foot model will be built at Lakepoint Sports Complex near Atlanta, GA that will be set to open in 2015. A second, record breaking 520 foot PolerCoaster is also planned and will be located in Florida; the exact location is to be revealed in the coming weeks. This 520 foot installation will also have an inversion at its max height, making it the coaster with the highest inversion.
The PolerCoaster concept is that the roller coaster is part of a tower complex containing retail, restaurants and bars. The coaster will start at the base and use a spiral lift to ascend to the top of the tower. From there, the cars travel down a layout that weaves around the tower structure. PolerCoaster was developed by a partnership of US Thrill Rides and S&S Worldwide.
Here's a video from the CoasterCrew talking to representatives about the PolerCoaster.
Worlds Tallest Waterslide
Staying with the 'tallest of' subject, construction is (still) underway at Schlitterbahn Kansas City of what will be the world's tallest and fastest waterslide. The slide named Verrückt, German for 'Insane', will be about 17 stories high and send riders hurtling at over 65mph. The stats haven't been officially divulged as Schlitterbahn are waiting for its opening to hold an official measuring event.  The current record holder for largest drop is the 164 foot Kilimanjaro at Águas Quentes Country Club in Rio de Janeiro. The record holder for speed is Insano at Beach Park in Brazil which reaches speeds of 65mph. Insano is also the tallest freestanding waterslide at 135 feet.
Like a lot of height/speed record breaking rides, Verrückt's layout will be pretty much to the point. Riders will sit in four person rafts and be dropped down a massive hill, followed by an uphill portion which leads into a second drop.  I was kind of hoping that it would be a body slide but at such high speeds, not only would it cause awful wedgies, but possibly an enema effect as well!
Link: Verrückt, the world's tallest and fastest water slide, is taking shape at Schlitterbahn –  The Wichita Eagle
2014 Carnival Calendar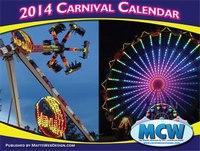 Matt's Carnival Warehouse has unveiled their 2014 calendar featuring a plethora of carnival photos, including some by yours truly! MCW has been putting together carnival calendars for 11 years now and are practically a must have for any carnival fan! The calendar also comes with a one day pass for two to the 2014 IISF Trade Show in Gibsonton, FL.
Link: 2014 MCW Carnival Photo Calendar
Voyages of YouTube
There's nothing I love more than finding strange ride videos on YouTube. Well, okay, that's a lie, but I'll stick with that sentiment for this article. Here's some things I've found on my YouTube excursions that you all might get a kick out of.
World's Fastest Ferris Wheel
This might be debatable, but I certainly haven't seen one that revolves faster than this wheel at a carnival in El Salvador. I don't get scared on roller coasters anymore but this would certainly freak me out a bit! Thanks to YouTube user elrito1 for uploading.
Evil Twister Spin
Twister is basically a larger Tilt-a-Whirl style ride. The original models were made by Alan Herschell with later ones being manufactured by Chance. I used to ride the old Twister at Keansburg Amusement Park and, man, you could get some ridiculously forceful spins on that thing. But never have any of my rides come close to the spin that featured in this video of Indiana Beach Amusement Park's old Chance Twister! Thanks to swampfoxer for uploading!
Tornado at M&D's Park
I'm sure many of you have been on a Pinfari coaster. Pinfari is most well known for their Zyklon line of coasters that some traveling carnivals and many amusement parks have. Unfortunately, a lot of people regard their newer, harness clad coasters as painful thanks to the tight turns taken with said shoulder harness. Some Pinfari coasters even do loops. However, there was one that not only did two loops…but a corkscrew. It's just as bad as you think it is, and this on-ride video of Tornado at M&Ds Scotland's Theme Park perfectly reflects that as the video basically glitches out as the train slams into the corkscrew. Thankfully, the park removed the inversion in 2006. Thanks to davidjellis for risking life and limb to get that video!