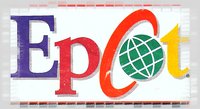 Fifteen weeks…fifteen! I can't believe it's been fifteen damn weeks since I've started the Crapstravaganza series! As we enter the final 1/3 of the off season, I can't help but to notice that I haven't posted much Disney stuff aside from the Winter Waterpark Crapstravaganza which featured Disney's waterparks. I guess the crapstravaganza is past due for a full fledged Disney map, so this week we have a 1998 map from one of my personal favorite Walt Disney World parks, Experimental Prototype Community of Tomorrow, better known as EPCOT!
Before I start, let me just warn that the following linked images are much larger than normal, so 56k'ers beware!
---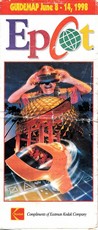 Let me start off by saying that this map was found folded up in a bag at the bottom of a messy closet. It's been there for who knows how long and the original Constitution of the United States is probably in better shape than this thing. I seriously thought it was going to fall apart as I folded it in preparation to be scanned.
With that aside, the cover features a funkily drawn Epcot logo along with some kid using a 3D headset or something; below that is the iconic Spaceship Earth with a Japanese Tori style arch in front of it. On the bottom is the ship from Body Wars flying out from behind the archway. Take it for what you will…
Something of note is that this map is specifically for the week of June 8th; you know a theme park has a lot of money when they can produce new park maps every week! I mean, Disney draws an attendence every year ranging from about 17 million for Magic Kingdom to nearly 10 million with Animal Kingdom. Disney theme park tickets are about $50 per person, so yeah…that certianly adds up!
---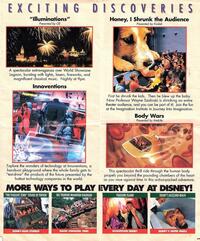 Page two shows off some of the the features of Epcot. We have Illuminations at the top left, Honey I Shrunk the Audience at top right, Innoventions bottom left and Body Wars at bottom right. Below that are images from the other Disney parks.
Now take a moment to check out the promotional photos; Disney is the number one offender of completely unrealistic images to promote their rides. Now I'm all for creative license, but please, some of this stuff is just crazy! I mean, just look at the Honey I Shrunk the Audience image! There is a giant dog coming out of the screen, licking the audience while all hell breaks loose with people falling over each other to get away from said monster dog. How does that even look like fun?
---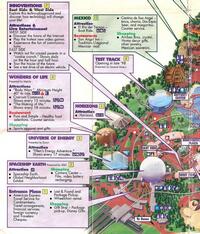 Yep, we're at the map already! Although there's a lot to talk about so I broke the map up into four sections…
Here we have Future World east; to be honest it's fairly similar to what's there now. Although if even one ride is added or taken out at Epcot, then the impact is huge. In this case the lone ride that presently isn't in this area of Epcot is Horizons. I was lucky enough to ride Horizons twice on this trip and the some 15 minute ride was pretty cool in a retro way, as are many non-updated Epcot attractions. The ride pretty much depicted visions of the future from past visionaries to the modern day (or at least circa 1984.) For instance the ride showed space colonies, undersea cities, and desert farming.
One of the few things I remember about Horizons were the giant Omni screen theaters that the cars traveled through. At one point there was a scene where the animation traveled down the center of a DNA strand which, due to the enormous screen, felt like everything was spinning. Another portion I remembered was the end where you could pick one of three ways to get back to the 'spaceport.' These screens would travel in front of the car and play a little movie of your car traveling through space or whatever. The last thing I remember was the building itself, which simply looked awesome!
Also, on this side of the park is Universe of Energy, which was and still is home to Ellen's Energy Adventure featuring Ellen Degeneres and Bill Nye the Science Guy among others. The show/ride is like 40 minutes long and the ride uses sets of six 97 seat vehicles. Along with being a show about how energy works, it also seems to be the model show in which showcases how horribly large and complex Epcot's rides are.
Above Universe of Energy is Wonders of Life, a pavilion that apparently isn't used anymore. The pavilion housed everything related to health and body with the biggest attractions being Body Wars, a simulator adventure through some one's body to fight off an infection; and Cranium Command, a show depicting a person's throughout process with actors and animatronics.
Skipping Horizons we come to Test Track, which hadn't opened by this point. Test Track takes passengers on various road test simulations that might be done in testing a new model. The ride uses full sized cars that can hold six passengers each and even reaches speeds of around 65mph during the 'highway test' portion. I made an on-ride video of Test Track back in 2004 that you can check out here.
In the middle is the giant golf ball looking structure that is Spaceship Earth. The ride basically takes passengers through the history future of communications; I almost don't even need to explain this ride since nearly everyone has been on it! Behind Spaceship Earth is Innoventions, which houses a lot of random exhibits.
---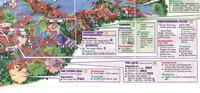 And now we have Future World west, home to only three pavilions…
At the bottom is The Living Seas (now called The Seas with Nemo & Friends,) a neat looking structure that houses the park's aquatic exhibits. Back in 1998, Living Seas still featured the 'Sea Base Alpha' theme in which guests first 'traveled underwater' via faux elevators called Hydrolators. Afterwards was a short ride through an underwater tunnel inside the giant tank that Living Seas houses. Other than that, the pavilion was pretty much an aquarium where guests could walk around and view the exhibits at their leasure.
Above Living Seas is The Land, a large building with a volcano looking glass atrium. In contrast with the nearby Living Seas, The Land houses agriculture and land based exhibits. The main thing I remember about The Land is Living with the Land, a boat ride showcasing advances in agriculture. Other than that, the pavilion was a bit bland; although in 2005 they added in Soarin' which looks pretty sweet!
Finally the last pavilion is Journey Into Imagination, now simply called 'Imagination!' Back in 1998 this pavillion still housed the original version of Journey into Imagination, which was just a crazy dark ride with all kinds of wild imagery along with the ever awesome Figment character. The ride also featured a song called 'Imagination' which was just as infectious as 'It's a Small World.' Also in this pavilion was ImageWorks which took up residence in the glass pyramids atop the building; and Honey I Shrunk the Audience, a 3D movie with some other effects added in as well to make it more realistic.
---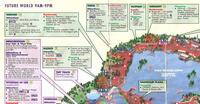 Above Future World is World Showcase, a very large section featuring different countries. I won't go into them too much in this Epcot crapstravaganza (yes there will be another) but the countries on the east side are: Mexico, Norway, China, Italy and Germany. All except Italy and Germany have a ride type of attraction, they are:
Mexico: El Rio Del Tiempo; a boat ride. It's now called "Gran Fiesta Tour Starring The Three Caballeros."
Norway: Maelstrom; a log flume type dark ride.
Reflections of China; a Circle-Vision 360 (aka UberRad-Vision 360!) film.
---
The west side of World Showcase features: The American Adventure, Japan, Morroco, France, United Kingdom and Canada. The ride attractions are as follows:
The American Adventure: The American Adventure; a show featuring animatronic historical figures…creepily realistic ones too.
France: Impressions de France; a panoramic movie showing French culture.
Canada: O Canada!: a Circle-Vision 360 film featuring everything about Canada.
Finally, if you want to see the entire map in one image, you can view it here…it's about 640kb and it's also pretty darn wide, so I advise right clicking and choosing to open it in a new window/tab.
Back to Theme Park Crapstravaganza