Last week, during Crapstravaganza 17: Magic Kingdom 1998, I mentioned that fact that Animal Kingdom was brand new, having opened in 1998. Well, I think that's a perfect segueway into this week's Crapstravaganza! This week is actually going to be a twofor with a 1998 map plus a 2003 map. The reason being is that the only 1998 Animal Kingdom map that I could find was a Spanish language one that I mistakenly picked up 11 years ago. With that aside, let's hit them hard!
---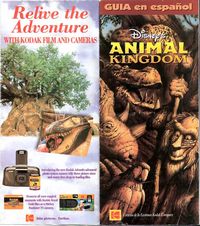 Yeah, I don't know why I said "hit them hard" either. Anyway, here's the cover and back of the 1998 guia en Espanol por Reino de Animales (hey, not bad for failing Spanish in high school!) It features many animals, plus Rafiki, carved into the bark of a tree. This image is based off of the Tree of Life that stands in the middle of the park which has 325 animals carved (or sculpted) into it. The Tree of Life actually houses a 3D show called It's Tough to Be a Bug. On the left page is, surprise surprise, a Kodak ad!
---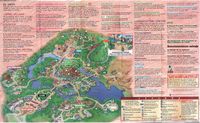 Huge image alert! 650kb!
Let's just jump right to the map. There really isn't much to see on the other pages and the text that's there is in Spanish. Animal Kingdom in 1998 was a bit different from how it is today. The biggest change was that AK had barely any shade in 1998, despite what the map may display. The place was sweltering when I first visited in June of 1998. To make things worse, the park had no real water ride to cool visitors off. The other major difference was Asia…it basically wasn't there in 1998! I actually like how the map shows the Asia section as a giant field of dirt with construction vehicles; a shocking exposé of Disney Magic!A ride that was there in 1998 that isn't now are the Discovery River Boats that circled Discovery Island. I vividly remember waiting in the giant, un-shaded line for the boats with my family in 1998. We, along with many others, ended up leaving the line after finding out that it was some 2 hours long. We probably didn't miss much…
---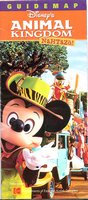 Fast forward to 2003. The cover features an image of a parade with Mickey playing the role of that annoying person who waves at the camera when you're trying to take a photo. The shot is a little misrepresentative of Animal Kingdom as a whole, but the Tree of Life does make a bit of a cameo. The word 'Nahtazu' also grazes the cover. Is it Swahilli? Hausa maybe? Nope, it's Disney-speak; pronounce it out loud and you'll see what Disney was trying to say about Animal Kingdom!
---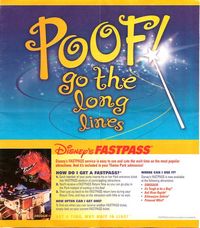 POOF! Here's a page featuring Disney's FastPass. It's not a bad system when you can snag a fast pass ticket. It's all too often that one will attempt to get a fast pass only to find that they're all gone! The photo with the promo features Dinosaur, a ride in the DinoLand USA section of Animal Kingdom. Dinosaur is a pretty wild ride by Disney standards; some actually say it was toned down when the name changed from Countdown to Extinction to Dinosaur. I remember it being pretty wild in 2003, but I can't seem to remember much from my 1998 ride.
---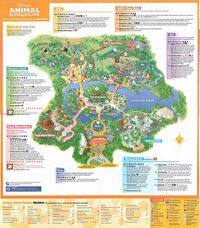 Huge image alert! 379kb!
Finally we have the 2003 Animal Kingdom map. Notice that Asia has been filled out nicely with Kali River Rapids and Maharajah Jungle Trek. Flights of Wonder was there since 1998…the lone representative of Asia since AK's opening. At this point, Asia again had some major construction going on near the back, however it's not shown on the map like Disney did with Asia in 1998. That construction project would open in 2006 as Expedition Everest.