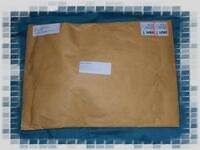 So I came home today only to find a small package in the mailbox. Now I wasn't expecting any packages, so this seemed a bit fishy; was it junk mail? Was it a free sample? Was it a bomb?! I checked out the address and saw that it had come from none other than Jimmy Olson at Jimmy's Truth 2 Power! For a second I felt like a kid getting something cool in the mail! But wait, it might be a mind control trap sent by Lex Luther, perhaps to turn all future postings on this site into vehicles for LexCorp! Hmm, let's open it…
…LexCorp is the best company ever. They do great things for the community and for my chihuahua.
No, inside was a typed note from 'Jimmy;' a small news paper featuring stories on the coaster transformations; a small foam hard hat (with Clawshun Industries insignia); and a flash drive. A flash drive eh? Well let's load that thing up! Inside were two videos, the same two videos from the Truth 2 Power website actually…well that was kind of a letdown!
The newspaper was also from the Daily Planet Special Editon website, featuring an article about the transformations of Six Flags Great Adventure's  Medusa and Six Flags New England's Superman: Ride of Steel. Also contained in the paper is a feature article about Lex Luther along with many fluff articles about Superman saving school children, how residents of Metropolis have the cleanest sidewalks, etc. It's certainly a fun read!
The note from Jimmy Olson simply recaps what is going on at Six Flags and how Lex Luther is behind everything. For most hardcore theme park fans, this package doesn't exactly add anything new to what's already known. However a lot of season passholders (I assume that's who the packages are going to) don't know about what's going on, so this will be a cool little surprise! Heck, even though I knew all about the transformation, it was still a cool surprise! (edit: not many people at all are getting this package apparently…) Personally, I'm very impressed with Six Flag's marketing campaign for Medusa and Superman: Ride of Steel and cannot wait to see the end result!
So how many others have received this package?