Let's take a little look at some of the big and not so big news happening in and around amusement park-dom this week!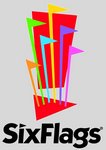 –Six Flags unveils their 2008 financial report showing that they've tripled their operating income, netting $144 million. According to Six Flags CEO Mark Shapiro, "I am proud and grateful that the efforts and commitment of our workforce — some 30,000 strong — resulted in our best year ever, putting our operations back on solid footing."
-In other Six Flags news, the chain has expanded beyond theme parks apparently opening up a childrens hair salon called Rollercoaster Cuts. The salon boasts what they call a "multi-sensory haircutting experience for kids of all ages." No everyone, I'm not making this stuff up. I wonder what this will be like? I mean, they're not going to simulate getting your hair cut on a roller coaster are they? That wouldn't be fun at all! Here's the official site…
-Coney Island, NY: The Coney Island saga continues as NYC officials may need to resort to eminent domain to acquire beachfront property after negotiations stalled out. Developer Joe Sitt is willing to part with the land for $200 to $250 million, double what Sitt paid for it. According to the Post, the city is only willing to pay $110 million.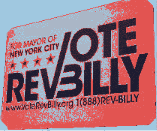 -In other Coney Island news, the animated Reverend Billy has announced his run for mayor of New York City. Recently, Rev Billy made city news by stopping WalMart from moving into Union Square in NYC and has made it one of his election platforms saying, "Come on, Wal-Mart in New York City? DEVIL GET THEE BEHIND ME! As Mayor, I will take that company to the LAKE OF HELLFIRE!" After that statement, I'm now convinced that Billy needs to be mayor of NYC!
And to round up some small ride additions…
-San Diego, CA: Belmont Park adds two new attractions, the "Magical Mystery Mirror Maze" and "The Vault Laser Maze Challenge." I remember visiting Belmont Park back in July; it was a nice little park but needed some more attractions, I guess these fit the bill somewhat.
-Tipton, PA: DelGrosso's park are adding in three rides this season: a Yoyo, a Pharaoh's Fury, and Dizzy Dragon. Yay.
-Coney Island, NY: The New York Aquarium is adding in a 4D ride theater attraction called Planet Earth: Shallow Seas 4:D Experience.