These past four Crapstravaganza's have all dealt with Disney theme parks. If you count past Crapstravaganza's, we've essentially covered every other Disney theme park and waterpark except for MGM Studios, now known as Disney's Hollywood Studios. I guess it's high time for that park to step into the limelight…
Before continuing, this post was written in 2009, so lot's of things are outdated.
---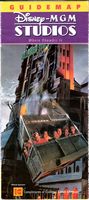 Firstly, we have the cover of MGM's 2003 guide map. Underneath the logo then modestly proclaim, "where showbiz is." The image below the logo shows Tower of Terror BURSTING OUT OF THE BUILDING WITH LIGHTNING BOLTS, WITH A CAR FULL OF HELPLESS PEOPLE ABOUT TO SLAM INTO THE GROUND AT A HUNDRED MILES PER HOUR. This doesn't happen on the ride…needless to say. It's worth nothing that Rock n' Rollercoaster was new this year, but they still felt to feature Tower of Terror.
---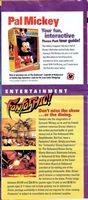 Skipping a FastPass page, we come to a page promoting Pal Mickey and Fantasmic. Pal Mickey is a stuffed Mickey toy that spews out information when you walk past certain areas. A friend of my sister lent us one for the trip. What happens is when you walk past, let's say Tower of Terror, Pal Mickey will begin to vibrate meaning that he's anxious to say something. I think you squeeze it's hand or something and Mickey will say his random fact or statement about Tower of Terror. What it says is usually presented in a Disney 'kayfabed' fashion as to not destroy the 'magic.' Pal Mickeys have been discontinued as of 2008 – sad.
Fantasmic on the other hand is a show that the park put on every night, and is basically their alternative to the fireworks show that Magic Kingdom and Epoct have. Fantasmic takes place in a giant outdoor amphitheater, and runs for 26 minutes. It shows a lot of scenes from different Disney movies using water screens, actors, props and fireworks and culminates with Mickey battling a giant dragon with great fire and water effects. Here's the video on YouTube if you want to check it out. (There's three parts to the video by the way.)
---

For the sake of completion, here's a page showing all of the eating places around MGM as well as information and another Kodak ad.
In the Tips and Info section, the guide tells us "anytime you see someone with a Disney name tag, just ask!" It's kind of open ended; I guess we can can ask anything from "where is The Great Movie Ride" to "how many lock nuts are on Rock n' Roller Coaster." Then again, it's so open ended that I guess we can ask anything! "How far away is the sun?"; "What do you think about Universal Studios?"; "Where can I find a good strip club?"
---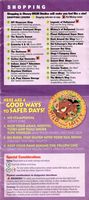 Again, this page is added for the sake of completion; it shows all of the shopping venues in MGM. It also has Timon and Pumbaa telling us some park safety rules such as "no stampeding" and to "keep your tails on the seat."
---
Giant image alert! You might want to right click and choose "open in new window/tab"
Finally we have the park map. MGM/Disney Hollywood Studios hasn't exactly changed a whole heck of a lot since 2003. Some of the changes are:
The Making of The Haunted Mansion Movie was renovated in 2005 into "Journey into Narnia: Creating the Lion, the Witch, and the Wardrobe." This was again changed in 2008 to "Journey into Narnia: Prince Caspian." The building is basically relegated to housing a vehicle for different Disney movies.
Who Wants to be a Millionaire: Play it, is gone. I remember seeing the show in 2003 and it was actually kind of cool. The set for the show was interesting as it was basically a bowl shaped structure sitting in the middle of a large sound stage; on TV it looks like a full building.
Disney Stars and Motor Cars Parade changed to Block Party Bash in 2008.
Sounds Dangerous turned into a seasonal attraction.
Lights, Motors, Action! Extreme Stunt Show was added in 2005, taking out a section of the Backlot Tour to fit the attraction in. (Thanks for the info Bob!)
Also added, without taking anything out, were:
The American Idol Experience in 2009
Toy Story Midway Mania! added in 2008