With three solid weeks of Dorney Park maps behind us, let's set our sites on one of Dorney's rival parks, Six Flags Great Adventure in Jackson, NJ. SFGAdv is no stranger to the Crapstravaganza, the first two weeks were dedicated to a 1998 brochure and a 1997 map respectively. This week we'll be traveling back to 2003 with one of Six Flag's sponsor laden maps.
---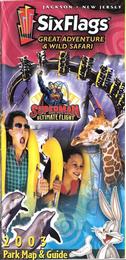 Here's the cover, it features Superman: Ultimate Flight in mid-turn, an S:UF logo, some animals, Bugs Bunny, and a couple of people supposedly on Superman. But if you look closely, they look more like the ones that are on Batman: The Ride…quite the dichotomy!Now if you did in fact look closely, you'll also notice that the man in the photo looks kind of odd. Elastic looking facial expression aside, it looks like he has one tooth in the front (probably not the case but the photo makes it look that way) making him look automatically moronic. Next, if you look at his chin, it looks like he has a stud piercing. He certainly doesn't look like someone that would have that, especially with the stereotypical "dad" shirt. Where the hell do they get these people?
---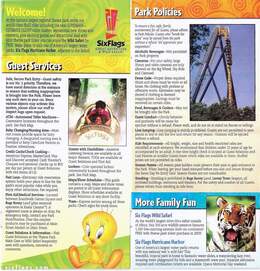 These two pages were separated by some full page sponsor advertising, so I omitted the ads and put the pages together. With that said, there really isn't a whole hell of a lot to see! There is a photo of Nitro's first drop which looks much steeper than usual. I wonder where they took this picture as well, it seems like the only place to get it would be by hanging out in the woods next to the park. On the bottom, a lion roars at us along with two quick descriptions of the other two attractions at Great Adventure; the Wild Safari and Hurricane Harbor Waterpark.
---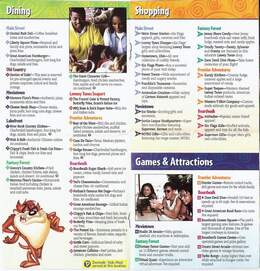 This page really has nothing of note aside from the multitude of shop, dining and games listings. It may come in handy when looking at the park map though!Many of the dining places are similar to what's there now, but two of my favorites, Casa Del Taco and Wok & Roll (liked mostly for the name) are not there anymore. Casa Del Taco became a crumby pizza place and Wok & Roll went all corporate, being turned into the chain restaurant Panda Express.
---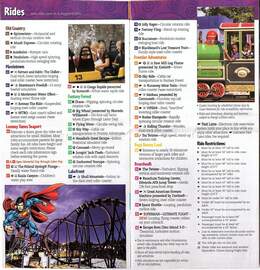 Here's a complete ride listing for Six Flags Great Adventure as of 2003. Again, this page has little to see until we get to the park map. This page does feature an image of Superman Ultimate Flight however, but it's either just a rendering or the one from SFoG. I wish GAdv's version looked like that; then I could see how long the line is without having to walk down the path, through the building and out into the coaster's infield section.Superman: Ultimate Flight at GAdv was a very highly anticipated coaster in 2003; I mean, a flying coaster? That's unbelievable! While it probably still is a favorite among the general public, the coaster itself seems to be pretty lackluster in the eyes of many coaster enthusiasts. In my opinion it's very short, has a low top speed, loads slowly, has a boring layout and has a perpetually long line.
Prior to Superman at Great Adventure, the spot was home to a section of parking lot. As a matter of fact, if you check out GAdv from Google Earth, you'll see that the coaster was blatently plunked down into the lot!
---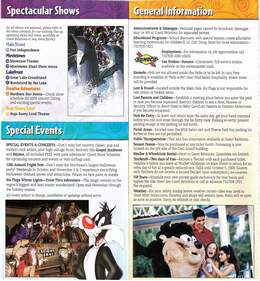 Here we have a listing of "spectacular shows" with a couple of dolphins smiling in approval. Several of these venues are now gone or left show-less such as:
Defunct:

Bandstand by the Lake
Bugs Bunny Land Theater

Standing but not operating:

Movietown Stunt Arena
Great Lake Grandstand
On the bottom is special events section listing some events like Fright Fest and the Winter Lights Drive Thru Adventure. Fright Fest is still going strong, seemingly even more popular than it was in 2003, while the Winter Lights event was scrapped soon after 2003.
---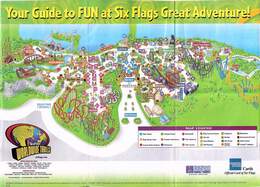 And finally we have the map!As I noted in one of the previous GAdv Crapstravaganzai, Six Flags maps aren't exactly the best when it comes to drawing coaster layouts. Case in point, Batman & Robin the Chiller (#60.) Check out the layout on the Batman side; it just launches right into a hairpin turn!
Here's a list of things to look notice with the numbers refering to it's number on the map:
Viper (#86) is still around; it was removed in 2006 to make room for El Toro.
The Season Pass entrance was available to season pass holders. the section below it was also a season pass lot. They were both taken out in 2005 with the addition of Kingda Ka.
Chiller is gone
All of Old Country is SBNO; Spinmeister (#56) and Pendulum (#59) have been removed.
Stuntman's Freefall (#61) is gone
Movietown Water Effect (#62) is also gone
As is Poland Spring Plunge (#66)
also closed are: Flying Wave (#71), Chaos (#69), Jumpin' Jack Flash (#75)
Bugs Bunny Land is completely gone, replaced by Golden Kingdom.