2/1 Edit: Added photos of the Golden Nugget Farewell Ceremony.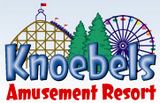 Since the anouncement of the Golden Nugget removal, rumors have swirled that a mystery buyer has been looking into purchasing the 1960s Wildwood boardwalk icon.  Well it's true folks, Amusement Today is reporting that Knoebels, a small amusement park in Pennsylvania, is the new owner of the Golden Nugget's tracks and trains. Knoebels is well known for preserving and restoring older amusement rides namely the 'Phoenix' wooden roller coaster, 'The Flyer' flying skooters ride, and are close to finishing construction on a Flying Turns coaster. According to Knoebel's Amusement Resort president Dick Knoebel, "I've always liked the Golden Nugget and we're excited about bringing it to Knoebels but we are not going to rush the project. We want to be sure that it is restored in a manner that both acknowledges the ride's past and looks to its future at Knoebels."
Needless to say I'm very glad to hear this news; while the ride will no longer be present at the Wildwood boardwalk, it's good to know that the ride won't simply be put in the dumpster or left on the pier to decay longer. However, according to the Amusement Today article, Knoebels isn't going to re-produce the old Golden Nugget as it was, so we'll just have to see how it turns out once all is said and done.
And remember, the Golden Nugget farewell ceremony is this Saturday, Jan 31st at 12 noon on the old Hunt's Pier in Wildwood, NJ. Everyone is invited.