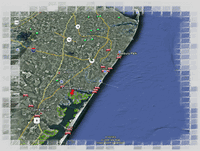 After attending the Golden Nugget event the day before and going on a little self guided sightseeing tour, I left the house in Brick at around 10 am. I picked up a breakfast sandwich and coffee at a Dunkin Doughnuts and ate while driving to Seaside Heights, NJ. I took route 35, a scenic north/south highway to get to Seaside, and was met by only a few cars traveling around as I coasted through the shore towns of Ortley Beach and Lavalette among others. I arrived in Seaside within 15-20 minutes; during the summer, this same trip would have taken a good 45 minutes do to the explosion in seasonal population.
For anyone who doesn't know, Seaside, NJ (which actually consists of two towns, Seaside Park and Seaside Heights) is a very popular shore point in New Jersey. If I had to name three big shore locales where Jerseans typically vacation, Seaside would probably rank at #3 with the Wildwoods and Long Beach Island as 1 and 2 respectfully. Seaside Heights is packed full of motels and typically caters to a younger crowd with an abundance of bars and clubs.
I parked in a large parking lot in Seaside Park and was flagged down by a dude just leaving his spot who had about 40 minutes left on the meter (yes you still have to feed the meter here in the winter!) I put in a quarter to make it 55 minutes (15 minutes per quarter too! I'm still young but I remember when a quarter would get you an hour!) It was about 50 degrees out, so there were quite a few people on the boardwalk; as opposed to Saturday when only a few crazies (like myself) braved the boardwalk. Here's the first set of photos from around Funtown Pier.
Aside from more people on the boards, everything else was about what you'd expect from a winter day 'down the shore;' most of the boardwalk stores were closed (except for one or two) many of the arcades were open, and barely anything was going on off the boardwalk. I ended up walking from the parking lot, to the very north end of the boardwalk and back. Along the way I stopped in both of the pier owned arcades, Funtown Arcade and Casino Arcade. Here's the photos from the end of the boardwalk to Casino Arcade.
Casino Pier arcade had a decent amount of people in there, and they actually had their indoor carousel running with someone behind the controls, but I didn't see anyone get on…then again I was only there for like five minutes. Funtown Arcade also had a good amount of people around, and their carousel was also running but with no takers. Something I like about Funtown Arcade is that it has an entire section devoted to 80s arcade games. Some of the games included Super Mario Bros, Kung Fu, Pole Position, Pac Man, like 12 pinball machines including one called 'Hercules' which is about twice the size of a normal one! This next set of photos are from the arcades…
I returned to the car and found a nice fat zero minutes remaining on the meter; guess I took a little longer than anticipated, oh well! I left Seaside Heights and traveled up route 35 through: Mantoloking, Bay Head, Point Pleasant, Brielle, Manasquan, Sea Girt, Spring Lake, Belmar, Bradley Beach, Neptune, and finally into Asbury Park where I stopped to walk the boardwalk.
Once again, Asbury Park had quite a few people walking the boardwalk, however a little more than Seaside since Asbury is active year round. I began the walk near the Casino, which isn't really a casino but rather an abandoned yet up kept structure. I walked through the building just to check it out before turning around and walking up to the Convention Hall. The following pics are from around the Casino.
There was quite a bit of activity within the Convention Hall's 'grand arcade' (basically a large indoor section between the actual convention hall and Paramount Theater.) Many of the stores were open; a bar was open for those looking for a liquid lunch and the bathrooms were actually open as well! You can usually tell the level of activity of a shore town by seeing if their public restrooms are open I've noticed! I didn't catch what was going on at the Paramount Theatre but I did see that Lamb of God was playing at the convention hall so the venues are certainly alive and kicking.
I headed back to the car and drove up the coast some more traveling through, Allenhurst, Deal, Long Branch, Monmouth Beach, Sea Bright and continued into Sandy Hook, another popular shore spot. Unlike the other shore places mentioned, Sandy Hook has no accommodations, boardwalk, or anything but rather is a National Park.
Sandy Hook is basically the last shore stop in New Jersey with the next town, Highlands, sitting on Sandy Hook Bay, with subsequent towns on the Raritan Bay. However I continued along the coast since there are a few more points of interest. One of them is the Quick Stop in Leonardo, NJ, the site where Clerks was filmed…and yes, it really was and still is called Quick Stop. Another stop was in Keansburg to drive past Keansburg Amusement Park. I didn't really see anything going on, so I just did a slow drive past the park and went on my way to the Parkway to officially end the trip. The final set of images has Sandy Hook, Quick Stop and Keansburg.