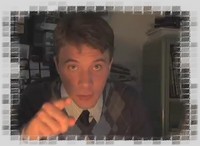 I'm a little late to this one but it looks like a website named Jimmy's Truth 2 Power was launched back in January by proprietor Jimmy Olson (pictured), photographer for the Daily Planet newspaper. Wait, what? Daily Planet? Hmm…let's inspect here. The blog starts off innocently enough, the first post is 'Jimmy' simply photographing scenes around Metropolis and expressing his desire to write for the Daily Planet, just like his friends Clark Kent and Louis Lane. Well you always need a goal in life to move towards and…wait a minute! This is obviously part of the viral stunt launched by Six Flags to promote their Medusa/Superman: Ride of Steel renovations.
In Jimmy's latest video blog post, he drops a bombshell that many of you probably figured out already, Clawshun Industries, the company allegedly responsible for transforming Superman:  Ride of Steel at Six Flags New England and Medusa at Six Flags Great Adventure, is actually LexCorp. Of course, LexCorp is owned by the evil villain of Superman fame, Lex Luthor! Jimmy says he'll do some investigative reporting and get back to us.
I'll admit, this isn't a bad viral marketing campaign; considering that little is really known about the transformations, it'll be fun to see what's revealed over the coming weeks. However one has to wonder why the heck Medusa, a ride in a wild west themed area,  would be transformed to a Superman theme? Perhaps Six Flags Great Adventure has some plans for Frontier Adventures?
*2/19 Update*
There's a new post over at Jimmy's Truth 2 Power including video. Apparently Jimmy contacted an informant inside LexCorp about the projects. There's also a new site available, LexCorp International. Jimmy also asks us for some help in trying to decode a lead. You can check out Truth2Power to watch the video and figure out the puzzle for yourself…or you can see the spoiler.
*3/2 Update*
I received a package from 'Jimmy Olson!' What the heck?!
*3/4 UPDATE!*
Yet another update to Truth 2 Power; actually another three updates! The first update basically recaps the 2/19 update with the security monitors and such. The second explains the meeting Jimmy had with the informant from LexCorp and how we need to help build an "anti-brainwashing beam;" well Jim, I do have an old laser pointer laying around somewhere 😉 . The final post features audio from a mole whose on the inside; she instructs us on how to find the blueprints for the said anti-brainwashing beam. Hop on over to Truth2Power and see if you can figure out this latest puzzle!
3/11: Yep, another update to Truth 2 Power with another decode the code game to find out the find out-able.
Hop over to the Truth2Power Webiste!