25 years. That's how long the State Fair Meadowlands has been around for now. Personally I started going to the 'Meadowlands Fair' around 1995 and have seen some of the wildest rides at it over the years such as Magnum, Evolution, Extasy, Top Spin, Tango, and many, many others. Unfortunately, since about 2004, the fair has steadily gone downhill in terms of ride selection and midway setup. This trend seemed to reach a nadir at last year's fair which, honestly, wasn't that great. However I'm glad to report that the 2011 edition of the State Fair Meadowlands has gotten their act together! The fair had:
Space Roller (KMG Top Scan)
Crazy Mouse
Avalanche (Pinfari 'Zyklon' coaster)
Vertigo
Rock n' Roll
Fireball (KMG)
Ring of Fire
Zipper
Orbiter
Banzai
Giant Wheel
Sky Ride
Wave Swinger
Scooter
Cliff Hanger
Gravitron
Pharaoh's Fury
Tornado (Wisdom)
Bumper Boats (upcharge)
A couple of dark rides
Several fun houses
An incredible amount of kiddie rides
Petting zoo
A bunch of shows
A myriad of greasy treats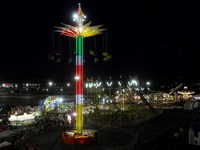 A majority of the rides were provided by Amusements of America along with other independent operators bringing in rides. The fair was setup in three sections basically: the entrance and food area in the front, ride midway in the back, and a kiddie ride world jutting off to the side. The main midway, like last year, was set up in an oval configuration however it seemed better executed with less open space in the middle along with a more compact layout.
One of the new additions this year was an ARM manufactured Vertigo (yes I confused it with SkyFlyer originally.) This was definitely a great addition to the fair giving a 360 degree view of the fairground; it also spun at a pretty brisk speed so it's not just good for the view, it's pretty thrilling as well! Not sure if Amusements of America owns this piece as it's not listed on their site.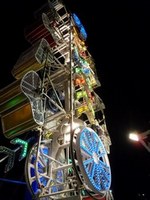 A few rides returned to the fair after a year or more hiatus, namely Zipper, Wave Swinger and the Sky Ride. Zipper seemed like it had been updated with LED lights, something I've never seen on a Zipper until now. It looked really good with a white frame and multicolored cars and lights. Wave Swinger was looking all right but moved quite a bit slower than most other Wave Swinger rides. Sky Ride was, well, a sky ride. It's nice to see it back though as it provides a great areal view of the fairgrounds as well as a mode of transportation from the back of the midway to the vendor areas.
Space Roller, a ride that is in fact indie operated, once again made an appearance with an updated backflash featuring Avatar among other things. The ride itself was maybe a minute and a half to two minutes long with half of the cycle going forwards while the other half was completed backwards; I think it was also run manually as some cycles differed slightly.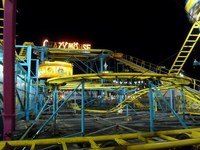 Crazy Mouse, a Reverchon spinning wild mouse, had a short line each time we (we as in two of my cousins and I) rode. The first time was just after the fair opened and featured cars that didn't spin and an angry Latino ride op who moaned about certain riders not following the rules. I have to say, I never realized how much a Crazy Mouse hurts after being subjected to the spinning  half of the ride sans the spinning. Luckily the second ride we took later on saw the cars spinning as intended.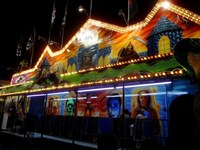 We went on both dark rides, one called 'Tomb of Doom, the other name I'm having trouble remembering. They actually weren't all that bad for a traveling dark ride; at least I have to give them credit for having all of the sensor activated props working. They both had some pretty good artwork on their facades as well. Although one had copious amounts of faux cobwebs that dangled in front of the car which scared the hell out of me, not due to their intended effect but because of all the nasty sweat, hair grease and face oil they must have come in contact with previously. Yech!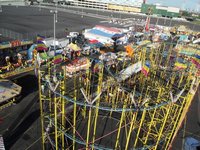 Along with rides mentioned we also went on Rock N Roll, Avalanche, bumper cars (twice) and Orbiter. We also stopped to watch a couple of shows as well as grabbing some overpriced fair food; I think I paid 12 bucks for three chicken tenders, fries and a soda…better than passing out from hunger I guess…maybe. We left at around 11:45pm, 15 minutes before the fair closed up shop for the night. All in all this was one of the better State Fair Meadowlands in recent memory.