Event: State Fair Meadowlands
Where: Meadowlands Sports Complex; East Rutherford, NJ
Date: 6/30/2010
Primary Ride Op: Amusements of America
There was a time when the State Fair Meadowlands, or just Meadowlands Fair, was the biggest most mind blowing fair I'd attend each year. Can't really say that for recent years however with the fair committee booking less and less each year it seems. This year was unfortunately the worst I can remember in terms of rides…I mean it was still a fun fair, but considering past years have had some real great line ups, it was a bit of a let down. The fair had…
Space Roller (owned by Floyd & Baxter)
Crazy Mouse
Avalanche
Fireball (KMG)
Bonsai
Rock n' Roll
Trapeze (Chance Yo-yo)
Orbiter
Giant Wheel
Scooters
Ring of Fire
Tomb of Doom (a dark ride)
Some POS spinny ride
Multiple fun houses
a myriad of kiddie rides
Several freak shows
A load of games
Various vendors
A bunch of shows
Truckloads of greasy treats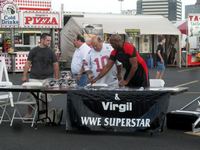 I went with two of my cousins who live near the Meadowlands. I had ordered my tickets ahead of time so I went to the will call booth to pick them up and headed in. I think the tickets were a few bucks off as opposed to getting them at the door. The first thing I saw when I walked in was a booth screaming "Virgil WWE Superstar" with none other than WWE's Virgil manning the table. A few people were walking up to him but I'd bet the booth would see more action if The Million Dollar Man Ted Dibiase, Virgil's kayfabe boss from the 80s, was sitting at the table! At least it wasn't this bad for ol' Virgil…
Anyway the first ride we went on were the Scooters. They were your standard, lapbar clad Majestic scooters. When the ride started I had my foot firmly pressed on the 'gas' pedal expecting a nice burst of speed straight into one of my cousins' cars; unfortunately the car only puttered into their car at a half a MPH maybe. I tried to gain some speed by breaking away from the mish mosh of cars but got only to walking speed or so. Bah, what's up with bumper cars these days?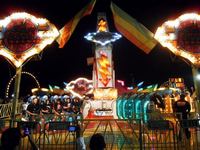 Next up was Space Roller which had a one cycle wait. This year they ran the ride on a fairly respectable cycle compared to last year when the fair was mobbed and the ride had a disgusting line. As always the ride was absolutely awesome with all the random flips and  'OMG' moments. Afterwards we took a spin on Trapeze, a Chance Yo-yo. I never remember how steep the chairs tilted until I took this ride on this one, I almost got crotched on the strap that secures the lapbar…fun.
After the Yo-yo we went over to Crazy Mouse which had like no wait which was in stark contrast to last year's hour or so wait! It wasn't too bad but these Crazy Mouse rides are popping up so much now that they're kind of losing their luster…but the GP probably eats them up.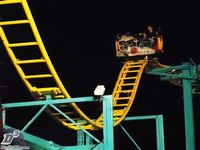 We decided to hit the next coaster, Avalanche, afterwards since it would probably have a long line later on. The line was only 8 or so carloads long but it moved slower than snot (that moves slow right?) Avalanche is an SDC made Galaxi coaster which is really similar to a Pinfari Zyklon with the only real difference being a little side to side track section towards the end. It sounds fun, but it was kind of bumpy and those GD brakes at the end stopped on a dime. Worth a 10 minute wait but not worth the 50 hour wait last year.
Next we hopped on Tomb of Doom, a smallish dark ride that tried its best to be scary. The ride did have a few buzzers and sirens which provided some cheap scares but the props themselves were either not lit enough or just kind of crumby looking. I mean I'm not expecting Haunted Mansion at a fair but a Bill Tracy-esque dark ride would be the lick!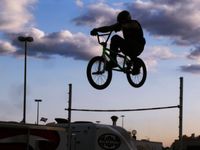 At this point we decided to grab some food and watch a couple of shows. I got a chicken fingers basket and a coke which came to like $10 or so. The chicken fingers weren't too great but it did come with a mound of tasty fries. We ate while watching a BMX stunt show. I was kind of hoping for some wicked spills but alas, it just wasn't to be. Still a cool show and one dude even did a front flip on his bike! Doesn't that defy physics or something? Next we checked out a circus that had the standard jugglers, clowns, motorcycle dude riding in a sphere. Although it did have a boxing kangaroo which was totally the shit!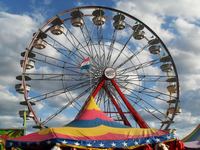 Ok, back to the rides. Orbiter was probably the first stop which provided a short ride but with no line I couldn't really complain. I tried to take an on ride video with my digital camera but it didn't turn out that great. Next was Rock n' Roll, a Bertazzon Matterhorn ride themed to rock and roll I guess. Slapping 50s era cars onto the flash as well as modeling the ride vehicles after them constitutes early rock and roll I presume. Anyway the ride went backwards first then forwards in an odd decision by the ride ops. The ride also played heavy metal which completely undermined the whole rock and roll, Elvis, Chevy theme. One of my cousins then jumped on Fireball with me while the other sat it out. Fireball was OK, but my nausea tolerance to them is really going downhill.
We decided to ride the Giant Wheel next in which we were forced to ride with a bunch of others as they only loaded ten or so cars. I hate when they do that! The wheel has like 20 cars, you can fill them ya' know! Finally, with me left as the only one able to ride without getting sick, I took a spin on Space Roller again and ended it with a front seat ride on Bonsai, which for some reason was tucked into the kiddie section. Considering that pendulum rides always get to me a bit nauseous, and with me already a bit woozy, Bonsai capped off the night for me. We left at around 11pm or so. The crowd level was great but I'm hoping the ride selection is a bit better next year!