Event: Youth Sports Festival
Where: North Brunswick, NJ
Date: 6/16/10
Ride Operator: Reithoffer Shows
I was tipped off about the Youth Sports Festival (aka the Route 1 Fair or DeVry Fair it seems) by a reader of The DoD3 last year but didn't go since Amusements of America was doing the show; not that I have anything against AoA, but they were to do the Meadowlands Fair a week later which I would definitely be going to. Anyway, this year I found out that Reithoffer was going to be doing the spot with their orange unit which meant that their Huss Tornado would be there! I didn't want to miss this one, so I headed over to North Brunswick to check it out…and I wasn't let down! Here's the fair lineup: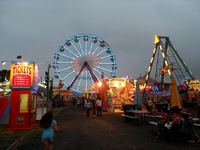 Tornado (Huss Flipper)
Tango
Crazy Mouse
Gentle Giant (Chance Ferris Wheel)
Wild Claw (KMG Fireball)
Orbiter
Himalaya (Wisdom)
Yoyo
Pharaoh's Fury
Zipper
Starship 3000
Sizzler
Tilt-a-Whirl
Tornado (Wisdom)
Scooters
Fun Slide (I don't remember but they probably did)
A myriad of kiddie rides
A bunch of games
Copious amounts of greasy treats
Quite a few shows (Wambalds Circus, Pig Races, Tiger Show, etc.)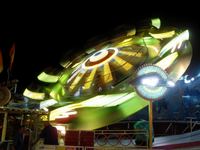 Well damn…this was actually better than the Meadowlands Fair! Also not only did they have Tornado, but they had a KMG Tango as well! I immediately set out to find an open ticket booth to buy ten tickets for the two 5 ticket rides. Tickets were $1.25 a piece but ten were being sold for $11. First I went on Tornado which had no line being a Wednesday night; I was actually the only one on it for that cycle. I asked to bring my video camera on to film which one of the ride ops seemed basically indifferent about.
The ride itself was quite a bit more intense then I thought it would be with the car whipping from side to side as the platform rotated at full speed. The angle that the ride rose to didn't seem as steep as Touchdown, but the ride was markedly faster. The cycle slowed the platform down twice to get the cars spinning around, although I kind of had to coax the car into spinning by leaning to one side.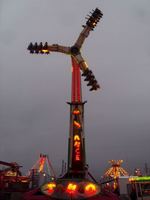 After Tornado I took some time to film the ride before heading over to Tango. I had the chance to ride this back in 2002 or so but didn't because I thought I'd get sick on it…then I never saw it again until now. I didn't have any qualms about getting sick this time, but I did fear the standup/floorless seating ,which by most accounts are not comfortable. I mean, just look at them!
I chose an outermost 'seat' (pretty much a bicycle seat) and pulled down the harness which consisted of large metal bars and some seatbelt type straps that hugged ones shoulders. Once the ride lifted, I noticed that it wasn't nearly as bad as some people make it out to be; I bike a lot so maybe I have a resistance to this sort of position or something! That doesn't mean it was comfortable though! As the ride flipped around my shoulders took a beating as I was tossed around in the seat like a ragdoll! The total cycle was pitifully short, but then again it was about all I could take without feeling moderately ill afterwards.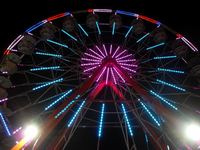 Afterwards I basically walked around taking video and photos right up until the place closed at 10pm. Many if not all of the rides were in incredible condition with working lights and nice color schemes. One ride of note was the  Gentle Giant ferris wheel which had LED lights on the sweeps that went through a series of patterns. The Himalaya was also pretty nice with a really robust light package, unfortunately it was a smaller Wisdom model which seems more like a kiddie ride on steroids than a large, respectable Super Himalaya or Musik Express.