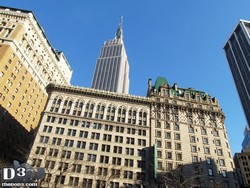 Ok, so this isn't a carnival or theme park trip report but since it's the off-season it's the best I have right now in terms of trip reports. I decided to head into New York City on Saturday, January 5th to pretty much just walk around and play tourist. I love the city during the holidays so I wanted to get in before all the decorations were taken down and such.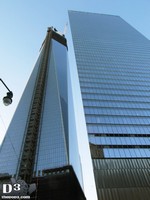 I took the train from Summit, NJ to NY Penn Station and then hopped on the 3 Subway train to Fulton St. in Downtown Manhattan. I don't usually travel into the Financial District. Compared to Midtown it's not nearly as touristy, but I thought I was due for a visit. Once out of the subway, I immediately got lost in literal canyon of towers. I saw World Trade Center One peeking through the gaps so I decided to walk in that direction and eventually found myself in Zuccoti Park. This park was made famous recently for being the camp site of the Occupy Wall Street movement. However, the day I went it was inhabited by a bunch of street entertainers.
I walked a block west and ended up at the foot of the World Trade Center site. The last time I had actually been in that area was a year or so after 9/11 and it looked quite different now. I thought about getting a pass to the 9/11 Memorial but decided that I'd rather visit in the Spring or Summer instead when the trees and flowers are in bloom.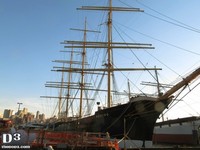 Next, I headed towards South Street Seaport. Once there, I walked around on Pier 15, which is basically a park area. The pier provides a nice view of the Brooklyn Bridge, the adjacent Pier 17, and the large ships that are moored at Pier 16. I then went to Fulton St. which was basically desolate. Sandy had flooded the area and every store had renovations being done to clean up water damage.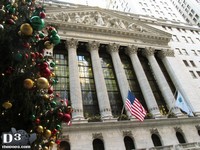 I made my way to Wall Street to see the Stock Exchange and the tree they had setup. I walked west to Trinity Church next, which was being worked on apparently. Scaffolding was hiding the entire face of the church. After milling around for a bit more I hopped onto the 3 train back to Midtown.
Here's the rest of the Lower Manhattan photos. Each photo has a little description.
Once back up, I decided to start looking for a place to grab a bite to eat. I gleaned over the options: should I go to the ultra posh Daniel on East 65th? Le Bernardin for some fine French cuisine? I heard Dorsia has some great sea urchin ceviche, maybe there? I ended up at Sbarro. At $4 per pizza slice, this place was right up there in the theme park pricing category. I would have searched around for a non-chain pizza place but I was too hungry to care at this point.
Afterwards, I headed north with the next intended stop to be Rockefeller Center. I, of course, missed it and found myself near Trump Tower instead. This is supposedly where The Apprentice takes place but that's a lie, however Donald Trump does indeed have a massive penthouse at the top of this blocky, somewhat Minecraft looking, monolith. The inside lobby is hilariously out of date with copious amounts of reflective surfaces and brass. In the past, Trump Tower housed a multi-floor shopping area with a few cafes and bars. Now, it just has one cafe on the ground floor, a bar on the first and a small Starbucks on the second. They wouldn't even let people to the upper floors of the atrium this time around.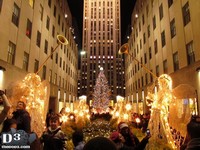 I walked to Central Park next and then backtracked to Rockefeller Center. Much like how a trip to Coney Island is incomplete without a ride on The Cyclone, a trip to Midtown during the winter holidays is incomplete without a stop at Rockefeller Center. Basically everyone shares this belief as well, as the center was jam packed full of tourists. The main attraction is obviously the Christmas tree erected above the skating rink. In front of the center, the Saks Fifth Avenue building had a short show projected onto the facade every few minutes.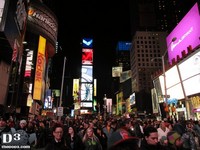 I started heading back to Penn Station and stopped in Times Square on the way. Times Square is interesting to walk through but there really isn't anything to do other than gawk. I used to stop at the Virgin megastore but that's gone now. Things I noted in Times Square were:
The New Years Eve Ball and 2013 sign
Confetti that had seemingly been fused with the concrete
The Naked Cowboy
People in character suits. Many of which were creepy knock offs of the intended characters.
At least three guys attempting to hand me a fliers for various strip clubs
One "demo CD" shoved in my face. If you're ever in the city, don't take it. They'll ask for money because "it's not free."
I did a long walk around down to Penn and found myself at the foot of the Empire State Building at one point. There's two observation decks in NYC currently, Empire State Building and Top of the Rock at the GE Building (Rockefeller Center.) If you ever go to NYC and need to decide between the two, do Top of the Rock. It's more open, the lines aren't as bad, and you get a wonderful view of the Empire State Building.
I stopped at Macy's briefly before ending my trip at Stout, a bar on 33rd that serves many stouts on tap. I savored a Young's Chocolate Stout before pounding a Magic Hat No.9 as it was getting close to my trains departure time. I headed out at approximately quarter after 9. Nice day of wandering overall.
Here's the rest of the Midtown photos. Again, each photo has a description.