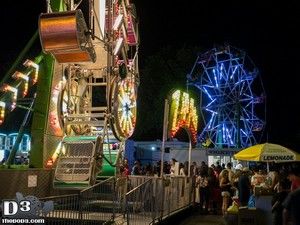 I headed over to Kenilworth for the annual Fireman's Fair on August 22nd. It was about a 20 minute drive to Kenilworth and upon arriving I had to hunt around for street parking. I ended up parking like four blocks away. I probably could have found one closer, but I suck at parallel parking so squirming my way into a spot would have taken about as long as simply hoofing it four blocks.
The rides were brought in my Blue Sky Amusements and the fair had…
Zipper
Round Up
Dragon Loops
Sizzler
Chair Jet
Ferris Wheel
Scooter
Fun Slide
Circus Town
Merry Go Round
Several kiddie rides (Merry Go Round, Tip-a-Canoe, Quad Runners, Flying Dragons, Tubs of Fun, some others I forgot?)
Several games
A handful of food stands
Beer garden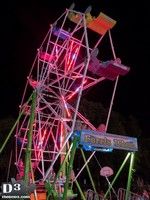 This fair was jam packed! Between groups standing around and long lines for the rides, it was tough to even navigate some areas of the lot. BSA switched up the lineup a bit, adding in Dragon Loops and Zipper while taking out Himalaya. Zipper stood at the center of the midway and had a line extending across the pathway and into a food seating area. Ferris Wheel was in this spot last year, but was moved to the side of the grounds. Like Zipper, the wheel also had a line that meandered into the pathway and alongside a ticket booth.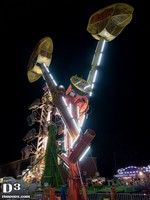 Dragon Loops and Round Up sat on the far side of the lot. Round Up seemed to be down the entire time I was there while Dragon Loops had a constant stream of riders. Chair Jet took up the back corner of the fair. This swing ride actually goes pretty fast compared to most other swings. I always thought this was a modded Watkins Swinger, but it's actually made by Specialty Ride Mfg.
The final two major rides were Sizzler and Scooter, which were on the side of the grounds. Both rides had large lines that seemingly crossed into each other's paths. A funhouse, carousel, and a couple of kiddie rides were also near the front of the fair with Fun Slide kind of tucked into the front, behind the funhouse.
The food and game area was like wall to wall people. One of the game trailers had a DJ with a little Serato digital turntable setup kind of crammed in between two games. At the end was a beer garden and a couple of larger games like a watergun race, speed pitch, and Frog Bog.
I brought along a second lens this time and decided to switch out the kit lens for the second lens at this point. I brought along a Rokkor 58mm f1.4, but I should have known better. On my camera, the lens basically turns into a 116mm lens; a short telephoto that would be better used for portraits or flowers/nature photography. I had to stand far away to frame most things, and with the tight spaces on the lot it just didn't work out so well. The shallow depth of field is nice on it though!
I did a few rounds of the lot before picking up a bag of zeppolies and heading out. Only a few fairs left for me in 2015 now; this summer just flew by!