Every May is my middle school alma mater's carnival, the Our Lady of Peace country fair. It lasted four days spanning from May 16 to the 19th this year with rides supplied by Blue Sky Amusements. In the days leading up to the fair I stopped by the parking lot to check out the racked rides and buildup.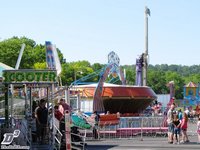 I ended up heading over there every day in some capacity to either get photos/video (this usually ended up happening regardless as I have an itchy shutter finger), pick up some zeppolies or simply wander around looking for old classmates who are still involved with the school/church (and fair subsequently.) The fair had a couple less rides this year (Round Up and Berry Go Round namely) as Blue Sky Amusements where doing another spot along with this fair, still there was quite a decent lineup. The fair had…
Zipper
Himalaya (Wisdom)
Scooter
Sizzler
Starship Gravitron
Riptide (ARM Ali Baba)
Gondola Wheel
Super Slide
Chair Jet
Carousel
Monkey Maze
Dragon Wagon
A myriad of kiddie rides
Games, games and more games
Vendors and greasy treats
Zipper had been revamped this season with all new…well everything. Visually it had a new paint job consisting of green supports with a white frame along with orange, purple and green cars along with receiving LED lighting. It's about as sharp as a Zipper can get, almost too nice to ride…ok now that's a stretch. The ride not only looked great but also was much less rattly sounding than most other Zippers thanks to the refurbishment.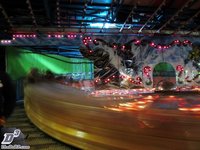 To the left of Zipper was Chair Jet Swinger, basically just a swing ride. I love the name Chair Jet, not only does it make a placid swing ride sound neat but it also makes one conjure up images of a plastic deck chair outfitted with a massive rocket engine or something equally ridiculous. To the right of Zipper was Himalaya, a smaller Wisdom model. I've never been on a Wisdom Himalaya so I can't say how it is compared to a larger Bertazzon or Mack model. Appearance-wise the ride was flooded with sequenced lighting and was equipped with music, strobes and a horn that was sounded on occasion.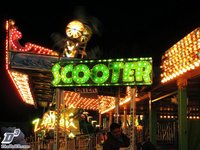 Next up on the midway was Scooter, a small bumper car ride. One night I saw the ride loaded up with adults in their 40s or so getting a kick out of slamming into their kids' cars. Sizzler, Wisdom's upgrade to the Eli-Bridge Scrambler, was next door to Scooter. This particular Sizzler spins very fast with the outer sweeps actually revolving faster than the main sweep. While I was lingering around Sizzler during the day on Saturday I had the pleasure of meeting DoD3 regular BSAMike, who was manning the controls that day.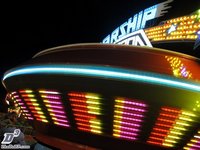 Starship Gravitron, a souped up Wisdom manufactured Starship 2000 was next up. This ride was obtained by BSA last season, replacing their older Gravitron which went to McCafferty Enterprises. Interestingly enough I actually saw BSA's old Gravitron earlier on Saturday night as McCafferty was playing the UNICO fair at the Livingston Mall. Like Zipper, Starship Gravitron has also hit the apex in carnival ride bling.
Moving on up was Riptide,  A surf themed ARM Ali Baba ride. A surf theme seems to work much better for this type of ride than the stock flying carpet theme; I don't know there's just something bland about ARM's Ali Baba theme compared to something like Weber's '1001 Nachts' ride. This ride had a purple and white color scheme with LEDs covering the main sweep, ride platform and back flash; the ride is bright at night.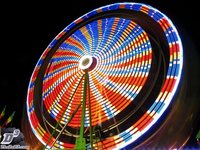 Two funhouses, one called Monkey Maze and a smaller one named Circus Town sat on the far end of the lot. Monkey Maze was more of an 'actual' funhouse with two levels; a mirror maze section was on the bottom with various stunts on top ending with a spiral slide to the bottom. Circus Town was a more open style funhouse with a slide, rope bridge, punching bags, etc.
Rounding out the major rides was the Gondola Wheel which had been outfitted with sequenced LED lighting since the last time I saw it. Now this is a nice looking wheel, during the day as well as at night. The wheel itself has a light green and white color scheme with yellow, green blue and red gondolas. At night the sequenced LED lights cycle between different patterns as seen in the photos below.
Games at the fair consisted of your typical carnival fare: shoot out the star, pick up the rubber duck, speed pitch, a watergun game, knock over the cans/cats, and chance wheels. One of the attractions that really stood out was a light rifle 'game' where people attempt to hit targets that activate a certain stunt. Fun Pier in Seaside Heights, NJ has a similar attraction inside their arcade.
The fair actually got a good week for a change as it never rained once over the duration of the event. Typically this fair seems to be a magnet for slow moving rain events or severe warned squall lines. Such a change must signal that the 2012 predictions are undoubtedly true…or that global warming is at work…or that they just got lucky.
Here's a boatload of photos.
Finally here's a video of Zipper.