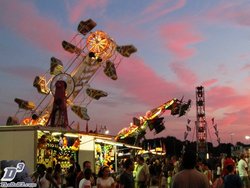 Last year when I attempted to attend this fair I got stuck in a gnarly traffic jam extending down Cranbury Road, the road directly in front of the fairgrounds. I eventually ended up turning around since by the time I arrived it would have been about an hour until closing. This year was much different luckily, one of my friends and I arranged to meet up at the fair on the first day, August 6th to check out the festivities. The midway was brought in by Skelly's Amusements and the fair had…
Zipper
Cliff Hanger
Typhoon (ARM Ali Baba)
Xtreme (Wisdom Super Sizzler)
Tilt-a-Whirl
Pharaoh's Fury
Round Up
Ferris Wheel
Euro-Bungee
Mardi Gras funhouse
A selection of kiddie rides
A plethora of foodstuffs
Multiple shows (including pro wrestling, farmer show, crazy German man on unicycle, etc.)
Animals and 4H stuff
I got to the fair at around 6:30pm, my friend getting there at like 6; it wasn't nearly as bad on Cranbury Road this time around but I was still fighting rush hour traffic until I got around the Rutgers University area. Admission was $6 bucks and I eventually met my friend after a few minutes of being confused with the layout. We checked out some of the animal barns first which seemed to be divided into larger animals like cows, sheep, goats and smaller ones like guinea pigs, chickens and reptiles.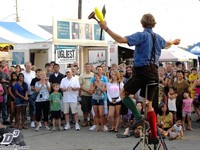 Next we headed towards the midway but not before stopping to see Hilby the Skinny German Juggle Boy, a street performer style show featuring a lanky German man that spewed out an endless chain of jokes and puns while performing. At one point he asked for a kid to volunteer and his stream of teasing caused one potential volunteer to turn around and run back to his parents. I'll admit, I laughed a bit…I'm terrible. His act was so good (check that, his humor was so ridiculous) that my friend purchased his DVD, which we'll have to view on an upcoming bad movie night.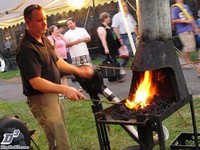 Next we watched some pro-wrestling going on in a tented area. The first match was a tag team match between two generic babyface's who happened to be the tag-team champions versus a couple of heels, one of which having an angry businessman gimmick…or something like that. The second bout was a confusing tornado tag team match where everybody seemed to be fighting everybody, no matter whose side they were on. It was just complete bedlam; I don't even know who the hell won in the end. We stopped by a blacksmithing demo next to check out some  smithing.  It looked like they were making tools for a fireplace set or something of the like; see I was kind of hoping they'd be making Griswold's Edge or possibly the Shadowfang demon blade.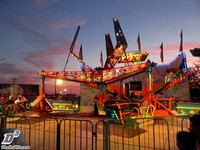 We headed down to the midway next which was actually surprisingly crowded for a Monday night. Skelly's seemed to run a pretty nice looking show with some sharp looking rides, a few of which having been outfitted with LEDs. Typhoon, an ARM pendulum ride, was one of these LED clad rides and practically lit up the midway with its excessive lighting. Pharaoh's Fury sat on the edge of the midway; I'm still unsure of why Chance decided to give a swinging ship an Egyptian theme, but hey I guess it works. Xtreme, a Super Sizzler, was a ride I haven't seen in some time now; the last time I rode a Super Sizzler was probably back in the late 90s. The ride actually looked really nice with a mix of neon colors and a back flash with some random 80s-esque designs. The ride itself spun forwards and backwards with the outer sweeps spinning markedly faster than the main sweeps.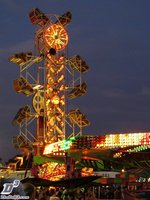 Zipper sat in the middle of the midway and actually had rows of fencing set up to queue riders into some semblance of a line; the rides that didn't have this luxury all had masses of people that spilled onto the midway thoroughfares. By the way this was the eighth different Zipper I've seen this year. Across from Zipper was a Dartron Cliff Hanger which seemed to be pretty stock looking with the usual green, yellow and purple color scheme; I don't think I've ever seen one with another color variation. Gravitron and Round Up sat next to each other off to the right of the midway. Gravitron looked like it had LEDs with flame designs on the flash. Round Up had green, blue and yellow lighting along with small flags spread out around the top of the cages. Definitely a nice looking ride, only beaten by Blue Sky's swag looking Round Up with the old school florescent tubes.
After milling around the midway we walked around some of the exhibit buildings. One of which housed all the arts and crafts sent into the fair to be judged. Oddly they were all secured behind chicken wire fencing, possibly in reaction to an incident that occurred in the past that warranted the addition of these obtrusive barriers. It's fun to think that maybe someone attempted to maim a rivals entry but the real reason probably isn't as exciting. As always there was a lot of good artwork and also a lot of laughably bad attempts at artwork that were most likely showcased out of pity.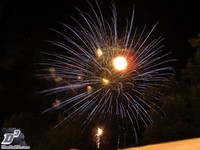 Now at this point we were going to watch the Farmer John show at my friends urging after catching some of his antics prior to my arrival. Before the show Farmer John released three goats into the crowd to be fed by a few kid volunteers. It kind of worked, one goat drank milk from a bottle held by a kid, another attempted to eat the fries off some guy's plate and the final goat ran around the hay bales set up as seating. This all came to an abrupt end as the fireworks show started, interrupting poor Farmer John's exposition of animal wonders. The fireworks were actually pretty good with a lot of loud, punchy sounding salutes. I took the time to take some strange fireworks photos (aka. focus on infinity and then shake the camera around) after seeing a similar photo in the photography competition.
Farmer John started after the fireworks ended. We stayed long enough to see him do tricks with his adorable Border Collie and then show off a goat, spraying goat milk right into the audience at one point. We walked over to the pig races next which was just about wrapping up with the final race when we arrived. Afterwards I went to take some more photos of the rides while my friend went to check out some more of Hilby. We left shortly afterwards as it was nearing the 11pm closing. Nice fair overall with quite a lot of stuff to do, reminded me of a mini NJ State Fair.