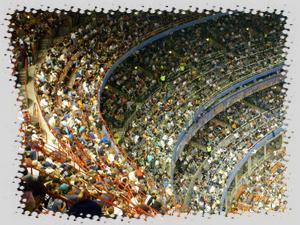 This isn't an amusement related topic but I do feel the need to comment on this…
Shea Stadium closed its doors for the final time on Sunday night. It could have stayed open for a little while longer but my Metsies found a way to screw that ALLLLLL up! Once again the Mets' season went right down to the last game of the season and ONCE AGAIN they lose on the last day. On the other hand, the Brewers won under a complete game 4 hitter from CC Sabathia, securing them the wildcard spot. The Brewers celebrate, the Phillies and their mouthy fans laugh in the Mets and their fans faces, the spoiler Marlins openly congratulate each other on our field, and the Mets sulk and pout like that bum Aaron Heilman.
The Mets need to do something different next season, not just go out and sign one big name player and call it a day. They need to revamp the entire bullpen, get some bats, and redeem themselves to their disheartend fans. My armchair GM inner senses say that they need to get K-Rod, Fransisco Rodriguez, to fill the closer role because right now we have Lus Ayala. Billy Wagner, our real closer, isn't coming back. He threw his last pitch with the Mets this past season so we should just up and get a closer. As for middle releif, as least get someone like Brian Fuentez.
AS for starting pitching, since we'll most likely be without Pedro, why don't they look into AJ Burnett? He's a good pitcher but prone to injuries…it's a risk we should take though. Also, re-sign Oliver Perez, we need him! Considering that signing all those players would cost a ton of money, let's take cues from the Bronx Bastards across the way and make money a non-factor. Well then Manny Ramierez should be signed as our new left fielder!
Pedro is actually a special case. I think the Mets should offer him a contract for a 1 million with a 10 million incentive if he wins 15 games. If he refuses and wants to same old "Pedro money" then they should tell him to go scratch. This isn't Montreal Expos Pedro anymore, it's post surgery Pedro. A Pedro who is still searching for a way to reinvent himself as a pitcher.
As for players that should not see a Mets uniform next year, here's my list:
Scott Schoenwiss
Aaron Heilman
Luis Castillo
Duaner Sanchez
Moises Alou
El Duque (is he dead or something?!)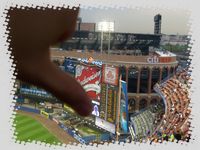 Finally I'dl ike to say that I'm going to miss the hell out of Shea Stadium and hate how the Mets are getting a small stadium in CitiField! I saw my first big league ballgame there and have been there many times through the years. People might say that the stadium was a dump, mostly Phillies fans with their little deluxo minor league park. Well Shea was our, the fans, dump! But one thing that put Shea apart from other venues was that the place had such an electric astmosphere. When a go-ahead homerun was scored at Shea, the decibel level from cheering fans was off the scale. Even during one game when the Mets looked dead down by 5 runs in the 9th. I stayed around to the end with maybe 8,000 others and watched as the Mets mounted a rally. They eventually lost the game by one run, but the remaining fans made enough noise to put a full capacity Citizens Bank Park to shame.