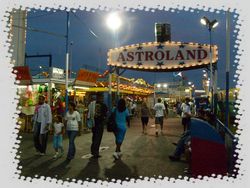 Astroland Amusement Park closed on Sunday and as far as everyone knows, it's for good. Unlike last year, another year's lease simply did not come to fruition. It's sad seeing a piece of Coney Island history closing, especially when the lot may very well sit vacant next year while zoning is still an issue. The Coney Island Cyclone, operated by Astroland, will be staying of course, being a landmark and all.
While I didn't manage to get there on Sunday for the closing, I made sure to pay my last respects on Friday (as always, trip report will follow.) On that day I arrived at 6pm and stayed till 12 midnight when the rains of Tropical Storm Hanna finally drove me out; much like how Thor Equities is driving out the businesses on the Coney Island boardwalk.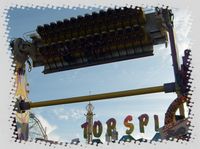 Some might say that Astroland was a hole in the wall; those people are obviously spoiled by Bolliger & Mabillard coasters and Disney-esque themeing. An amusement park doesn't need to look nice to be great, especially a place like Astroland that had a good length of history behind it. As far as I'm concerned, the rides at Astroland were scores better than any Six Flags or Cedar Fair owned park that I've been to. I mean, when was the last time that you could get some 20 flips on a Top Spin or be spun for nearly six minutes at full speed on a Breakdance? You would be lucky to get three flips on a chain owned Top Spin!
A lot of it came down to the ride ops that seemed to enjoy working on the rides. Take the aforementioned Breakdance with its enthusiastic lot of characters; interacting with riders over the mic and giving people their absolute money's worth with lengthy spins. Or the Top Spin; while the ride operator would never say all that much I seem to remember peering over at him while in line only to see a huge smile slapped across his face as he dealt out a manually controlled series of flips. Whether his smile was for liking his job or delighting in rider torture was negligible because dammit, he was having fun in any case! Or perhaps the Pirate Ship where one could "take it to the train station" with a voyage that would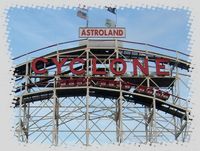 make A Perfect Storm look like a sunny day.
This park will be dearly missed; I wish the best for the workers of Astroland, and the future of Coney Island itself. I urge everyone to be there next year on Sunday April 5th, 2009 for the opening of the Cyclone roller coaster.
Here, have a spin on the Breakdance on me…