For the past couple of weeks the Crapstravaganza has featured park maps from Dorney Park & Wildwater Kingdom. Well, the steady dosage of Dorney is about to end…but not before one last big ladle full for good measure! This week we'll jump from Dorney Park circa 2001 to the 2006 version. And as an added bonus, instead of making you jump to a different page to see the article, I'll just do it all right here! Bring on the scans!
---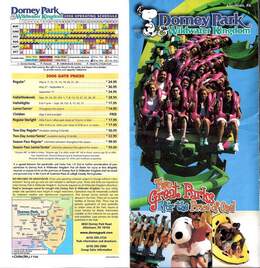 Ok, here we go, we're gonna do this…first we have the 2006 schedule for Dorney Park & Wildwater Kingdom. I refuse to tell the time machine joke yet again.
On the right is the front page featuring Dorney Park's 2005 addition Hydra: The Revenge. Hydra is a smallish B&M designed coaster that navigates seven inversions despite its rather modest 105 foot drop. Actually some of its inversions barely turn riders upsidedown; I have to seriously challenge the coaster's first 'immelmen' inversion as it's more of an overbanked turn!
Hydra's real claim to fame is the 'jojo roll,' a flat roll traversed immediately after leaving the station while the train is only rolling at 10-15mph. The roll is prominently featured on the front page along with some damn fine photoshopping to make the track look like it's hanging in mid air; those tricksters…
---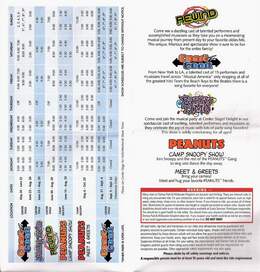 Oh look, a show schedule, let's see what they have…
Rewind: Fun show with retro music and dancing. Check!
Coast to Coast: Musicians play some of the biggest hits of all time. Check!
Party Time: The same as above only with 'party song favorites!' Check!
Peanut's shows: Sing and dance the day away with the Peanuts characters! Check!
Laser Light Spectacular: Awesome 80s laser light show with cool lasers! *BUZZER*
The Laser Light Spectacular is finally gone! If Dorney had kept the laser light show until 2006, it would have been a complete and utter debacle.
---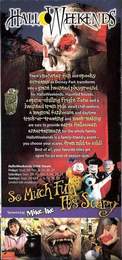 Hey, hey, hey it's HalloWeekends! It's so much fun that it'll scare the pants off you and you'll have to be escorted out of the park for indecent exposure. I like how they have a special spooky font set for the events listed in the long description.
Make note that HalloWeekeds was sponsored by Mike and Ike, the most disgusting candy on Earth. I bet they gave that crap away during the trick or treating festivities as well; shoot, I'd rather get an apple with pins in it than a pack of those barf tablets.
---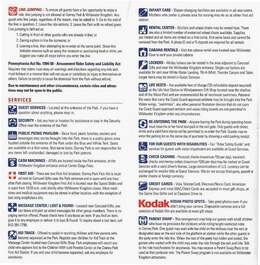 Words.
Oh but wait…that stupid character is gone! Finally, Dorney realized that the chemically imbalanced knight had no real reason to be there!
---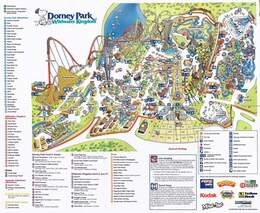 Finally, we have yet another badly stitched park map; I swear, these big maps are a real pain to fit together.
Anyway here's the changes to look for while reviewing the 2006 map:
No more Dinn Shuffling, Hercules is gone, replaced by…
Hydra: the Revenge is now on the map
Laser Light Show structure is gone, replaced by Meteor.
Screamin' Swing has been fitted into the spot behind Wild Mouse
Skyscraper is gone, replaced by a big open space (future home of Voodoo/Possessed)
Revolution, a Chance made flatride, is added behind Thunderhawk
Wildwater Kingdom now has Wildwater Cove as well as Patriot's Plunge, a three slide complex,located to the upper right of WC.
There's some big ass open space to the right of Dominator with a Subway stand right in the middle. On the 2001 map, a large building resided there with multiple stores/eating places.
Joker is gone, replaced by restroom.