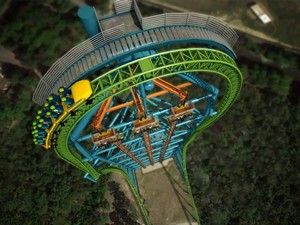 The much anticipated release of Six Flags Great Adventure's 2014 plans have been announced this morning. The park plans to add Zumanjaro: Drop of Doom, a record breaking 41 story drop tower strapped onto the front of Kingda Ka, the tallest roller coaster in the world. There you go, two tallest X in the world in one place!
Zumanjaro will feature three gondolas on three separate tracks, each gondola holding 8 riders each. Riders will be hoisted up 41 stories in 30 seconds and, after a short pause, will drop at speeds up to 90mph. Man, this ride is going to be something else! Even a drop tower like AtmosFEAR at Morey's Piers has a great drop at only 140 feet high; a 400+ foot drop is going to be truly intense!
In addition to the drop tower, Six Flags will also be moving the baboons from the safari into Golden Kingdom, putting them into the old tiger habitat. The Safari Off-Road Adventures tour bypassed the baboon enclosure, so moving them to where people can see them up close makes sense.
Heres some renderings from the promo video.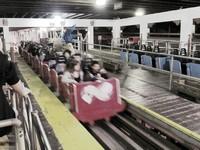 Unfortunately, Six Flags Great Adventure will also be making a major removal in 2014 with news that Rolling Thunder will be no more. The racing wooden coaster opened in 1979, making it the second oldest coaster at the park currently (Runaway Mine Train is older believe it or not!) The ride has rarely raced in past years and was closed for extended periods this past season. It also seemed to run markedly worse than much older woodies like Thunderhawk, Dorney Park's 90 year old wooden coaster.
The Great Adventure website cites dwindling ridership and the need to "make room for the newest addition" as the reason for removal but a couple of posts on Great Adventure History implies other reasons for removal. No one is really talking (employees aren't allowed to divulge info) but if I had to guess, it was probably a combination of the "Rotting Timbers" nickname ringing true and that Six Flags needed to kick Rolling Thunder down in order to open up a new path to Golden Kingdom along with some expansion in mind. After all, they can't have two major attractions sitting in that dead end, can they?
I may have poked fun at Rolling Thunder in the past, but it will missed…hopefully a GCI takes its place at some point!
Update: There's currently a petition at Change.org in favor of keeping Rolling Thunder. I know, I know…petitions don't mean much, but Whizzer at Six Flags Great America was saved to due public outcry, so you never know!