Action Park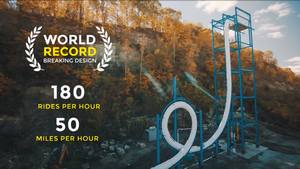 The LA Times is reporting that Action Park waterpark (formerly Action Park, then Mountain Creek Waterpark, then back to Action Park) in New Jersey is planning to build the first SkyCalibre looping waterslide offered by the collaboration of Sky Turtle and Avalanche Waterslides.
SkyCalibre is being touted as the world's first waterslide to have a vertical loop, but we know better. Action Park built a vertical looping waterslide in the 80s called Cannonball Loop, but it wasn't exactly the safest thing in the world. SkyCalibre, on the other hand, has riders encapsulated in a "raft vehicle" that ensures riders don't make contact with the actual slide, negating the main complaints of scrapes and gashes thanks to Cannonball Loop's rudimentary design. I guess it can be said that SkyCalibre would be the first waterslide to safely perform a vertical loop.
In addition to a vertical loop, SkyCalibre slides also feature a 90 degree, vertical drop; something that generally can't be done on conventional waterslides. The end result is a 90 foot slide with a 45 foot vertical drop and a 30 foot vertical loop that sends riders rocketing along at 50mph.
Action Park hasn't released anything about the plans as of yet.
3/10 Edit: It's confirmed now.
Here's a promo video of SkyCaliber.
Roller Coaster Tycoon World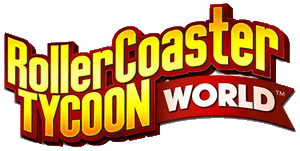 A new video featuring the gameplay of the impending Roller Coaster Tycoon World game surfaced the other day. Gamers and roller coaster enthusiasts everywhere were astounded by the realism, advanced building, depth of gameplay, and attention to detail displayed in the video.
Yep, that's exactly how it went…
Seriously, it's not looking so hot at all. This isn't even some alpha version either, this is the almost finalized game that they're touting. It actually reminds me a lot of Theme Park World, a game that came out in 1999.
Some criticisms I'm seeing hurtled at the trailer are that the coaster trains move with weird physics, looking almost powered in movement, there's no banking on coasters, scenery is nil, the flatrides are completely unrealistic, and that it looks "worse" than RCT3. Meh, I thought RCT3 was an all right game, contrary to the majority. I do personally think that the cartoony vibe to RCTW is a little too much. I know some people want RCTW to have No Limits 2 graphics, but come on, that's kind of a silly expectation.
The official video posted on YouTube currently has 170,000+ views, garnering 720+ thumbs up and over 3,200 thumbs down. Heh…
RollerCoaster Tycoon World is slated for a mid-2015 release. Maybe.
Cannibal
All right, so I generally don't talk about parks outside of the NJ/NY/PA area (unless it was to poke fun at Hard Rock Park), but this thing has caught my eye.
Cannibal is the newest addition to Lagoon Amusement Park in Utah, slated to open in late March along with the rest of the park.  It's a roller coaster designed in house by Lagoon's VP of Engineering Dal Freeman and fabricated by Intermountain Lift. The roller coaster is 208 feet high and features a vertical elevator lift and the tallest, inward angling drop of any coaster at 116°. The drop looks like something made in No Limits as a joke.
The coaster has four inversions it seems, two dive loops and two barrel rolls. From photos it looks like the barrel rolls are done in succession, however the first one rolls to left while the second rolls to the right. The transition between the two is made while the train is still completely sideways. What the hell?
The ride also features some neat scenery. The main elevator tower is enclosed in some monolithic tower structure. It might not be the most appealing thing, but it sure looks intimidating. The track also navigates around, and even dives through rock features with waterfalls and pools. The barrel rolls actually take place above elevated rock pools.
Overall, this looks likes a really cool coaster and I love how it's being built in-house.