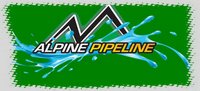 Mountain Creek Waterpark in Vernon, NJ has announced their newest slide for thrillseekers to enjoy, Alpine Pipeline. According to a newsletter, riders will take an "exhilarating tandem tube ride through walls of water as you spiral in and out of darkness to the cool splashdown below." Mountain Creek's last major addition was in 2003 with High Anxiety, a slide that drops riders down a steep chute and up the walls of a funnel shaped structure. Mountain Creek Waterpark will re-open on June 6th so get that swimwear picked out now!
I was personally hoping for one of those new 'looping' waterslides that are popping up in Europe, sort of as an homage to Action Park, but this sounds pretty cool as well. Unfortunately no images or anything detailing what it does were released along with the newsletter other than a neato logo!
12/23 Update: A recent update at Screamscape shows a scanned postcard with a teaser of Alpine Pipeline. Interestingly enough the Mountain Creek Waterpark website has yet to say anything about the slide.
6/15 Update: So has anyone been on it yet? I haven't gotten up to Mountain Creek yet so I have no idea what it's like.