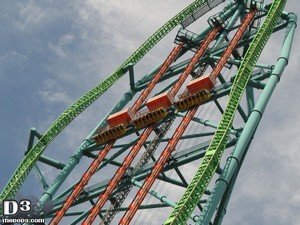 2014 was a pretty good year for me in themeparkdom. I'm not really one to travel somewhere just to ride a new ride, but the fact that two major openings happened at nearby parks meant that I managed to hop on two new rides: Luna Park's Thunderbolt and Zumanjaro at Six Flags Great Adventure. I call that a win for me!
While I wouldn't necessarily say that riding a brand new ride would automatically put them into contention for the "best ride experience" of a particular year, it turns out that my best ride experiences of 2014 came on the two new rides I rode this 2014 season. I can't decide which one I liked more, so let's just do both!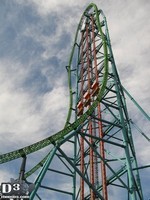 First is Zumanjaro, the tallest drop tower in the world currently. This was the first ride in a while that made me a bit nervous. The whole uncertainty of when the carts are going to drop always gets me on pure drop towers. With a roller coaster, you know when it's going to go over the edge, so while you might be excited, you probably won't be caught off guard by anything.
Riding Zumanjaro the first time was kind of nerve wracking. The ride is almost comically tall. I remember passing the curved sections of Kingda Ka and realizing how high we were even at that point while still only a third of the way up. At some point of the ascent, I could look down on the Parachute Jump, a ride that is still one of the tallest points in the park.  I guess you can do that on Kingda Ka as well, but you only get a second.
At the top, the carts pause for around 10 seconds before dropping. The uncertainty of when they'll drop is when the real nervousness kicks in. Funny thing is, once they do disengage, the nervousness immediately replaced by "this is awesome!" At 400+ feet, the drop lasts markedly longer than usual. I'm used to Dorney Park's 200 foot Dominator and Morey's Piers' 150 foot AtmosFEAR, the 100+ extra feet of brake-less fall actually felt strange.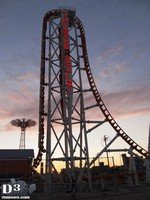 My second favorite experience, or rather "favorite moment" was on Thunderbolt in Coney Island. Like Zumanjaro, I kind of knew what to expect but didn't really know what to expect…get it? It's a somewhat small coaster, so I decided that holding on was something I really didn't need to do. I simply rested my hands on the lapbar on the way up and just as we were about to roll over the edge, I shot my hands up.
OH BOY…
The combination of vertical drop and the fact that the lapbar doesn't really rest on your lap made it so that I legitimately felt like was I going to be tossed from the car. I've been on vertical drops before, even beyond vertical like on Hersheypark's Fahrenheit, but this was the only one that felt rather harrowing. As a seasoned thrill rider, you don't get moments like that too often, so it really stood out!
So how did 2014 treat you coaster and theme park-wise? What was your best ride experience of 2014?
Some other bloggers are also posting their best ride experiences of 2014, check em' out!
Lastly, have a happy New Year everyone!