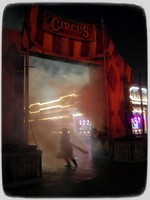 Another rousing trip to Six Flags Great Adventure. While driving to the park it started to rain a bit; great, looks like the threat of rain actually followed through. I got to the park at around 6pm and found that the park wasn't too crowded. At this point the rain had also subsided into a moderate mist; a 'pissy rain' as I like to call it.
As what's become almost routine now, I headed straight for El Toro and waited in a modest line before boarding. Toro was running nice and fast in the rain, unfortunately my glasses got plastered with mist leaving me blinded until the brake run. Next was Bizarro which had a stairway wait. I hopped in the back seat and took off my glasses this time. Bizarro was Bizarro on this day, although the misters on the drop and corkscrews seemed a bit redundant for some reason.
Afterwords I decided to take a spin on the Runaway Mine Train. I headed up to the station only to find basically no lines whatsoever (photo.) I took the back seat and waited in a poorly placed fake cobweb for the single train to come back. Backseat on RMT isn't too bad until you encounter the bunny hops, which rocket you off the seat in a sudden burst of ejector air.
Next I made my way over to Skull Mountain and found barely any lines. I took a spot in the second to last car as the last one had a line. I took one spin and then just sat there to take another as there was no one waiting. After my dual rides on Skullie, I went to over Nitro which actually had a line! I waited about 15 minutes to ride and once again took a back seat. The mist made the far sections of Nitro's course very dark which was pretty cool.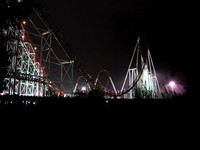 While waiting for Nitro, I noticed that Batman didn't seem to be running, so I headed over just to see if it would open anytime soon. No dice there, Batman would remain closed as long as the mist still fell. Instead I walked over to the Boardwalk and rode Twister before getting in line for Scream Machine.
Scream Machine had absolutely no line save for one guy in the front row. I got in the second car and both of us were off. When the train returned there was a few people scattered around, so I hopped in a middle car for a second run. When the train returned for the third time, I got up and went right for the back for my third ride in a row. I seriously contemplated a fourth run but decided to get off; probably a good idea!
Finally I made my way over to Kingda Ka which was actually running for once in misty conditions. I waited about 10 minutes to ride. I'll tell you what, nothing beats being pelted with tiny droplets of rain at 128mph! I decided to head out after that ride.
As I left the park at around 10:00pm, the rain started to pick up…guess I decided to leave at the right time!