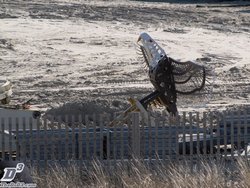 I took a trip down to Wildwood and the southern shore areas the other day. A lot of people would probably find the shore boring at this time of year but I think it's actually the best time to take in the scenery without all the hustle and bustle of the summer months. Anyway while in Wildwood I got to see some of the deconstruction of the Condor, which was being laid out on the beach. Here's some photos:
Also on the southern side of the pier was the Sky Scraper ride also pieced out and laying on the beach; unlike Condor, this ride is simply being moved to another pier.
A little bonus was nabbing a photo of the new Kangaroo Hop ride which was sitting on the old Hunts Pier. This ride will be replacing Condor for the 2012 season, albeit temporarily as the Morey's website alluded to.
Finally here's a shot from Ocean City, NJ. Nothing really going on down there from what I could see but the sunset was pretty nice!