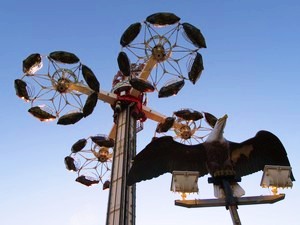 Wildwood, NJ: The somewhat iconic Condor is slated to be removed from Morey's Piers this coming season. The Huss manufactured thrill ride debuted on Morey's Seaside Pier in 1988 and featured sets of revolving cars that traveled up a 115 foot tower providing a great 360 degree view of Wildwood only outmatched by Morey's 150 foot Giant Wheel.
While revered by many non-acrophobic Morey's visitors, the ride had seen its share of problems over the years resulting in large amounts of downtime. According the Morey's Piers blog the ride needed a one million dollar rehab which was just too much to spend on a 23 year old attraction. The ride will be temporarily replaced by another attraction for the 2012 season while Morey's finds a suitable permanent replacement; that replacement alluded to be a vertical swing type ride (such as Sky Flyer or Vertigo perhaps.)
Check out the photos of Condor being disassembled.
_____
Morey's Piers has also been doing a plethora of improvements and relocations this past month in preparation for the upcoming season: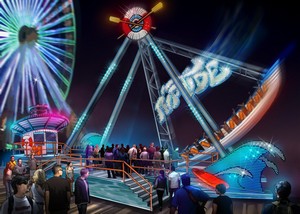 Mariner's Landing will be seeing a new ride, axing the Chance manufactured Sea Dragon in favor of a replacement swinging ship dubbed Rip Tide; the ride will be themed as a Wildwood lifeguard boat.
Raging Waters is getting an update with a massive overhaul to their Endless River ride, adding in rock scenery and other improvements.
Ocean Oasis, Surfside Pier's waterpark, is also getting a 6 lane ProSide manufactured racing slide.
Great Nor'Easter's track has been "re-shaped" which according to the blog has resulted in a much smoother ride experience.
Finally the Sky Scraper upcharge ride is being moved from the old Hunt's Pier to Adventure Pier while Jersey Junkyard and Revenge of the Mummy 3D (or whatever the heck it was called) are being removed. I know…heartbreaking…