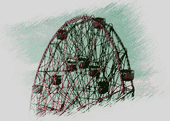 Here's some theme park and amusement related openings in the Northeast US for April 2009. Many of the parks open on a weekends only schedule in April so I urge you to check the park's official site for hours.
Major Parks/Attractions
Small Parks/Attractions
Saturday, April 4th
Saturday, April 25th
Other
12h Street Amusements; Coney Island, NY: they usually open along with the other parks in Coney Island.
Belmont Fair; Elmont, NY: The Belmont Fair is open every Th, F, Sat, Sun from

April 2nd through April 26th.