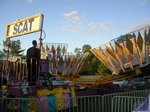 First things first, if you can say with a straight face that this ride doesn't look like it was made in someone's backyard then you are a LIAR! Like any good WTCR, this ride has been known to use solid colors, fluorescent light tubes and ugly padding in its decor. Scat also uses WTCR requisites such as tire drives, vinyl canvas, and the lack of substantial loading platforms or background scenery.
The ride itself is fairly simple, the platforms and boom rotate while riders are pressed against the walls due to centrifugal force. While loading one platform, the other hangs in the air on a slight angle, leaving riders to grasp onto anything in order to not topple over.
The Ride
First you board the platform and lay against one of the 12 panels. The setup is similar to a Round Up, however the panels are tilted back a bit, like on a Gravitron. The ride starts by having just the center hub spin, then the cars spin up resulting in the riders being pinned to the wall with incredible force.
As mentioned, the panels are on a slight angle, this inadvertently results in a slight upward motion when the panels and hub are aligned just right. I remember on one Scat ride some kid next to me shrieked "Oh my god it's like trying to throw us off!"
Scat rides usually run with both the platforms and boom rotating in the same direction, however some will rotate the two in opposite directions for a short time before switching. On the latter, due to the total lack of centrifugal force, riders must grasp onto the grab bars or risk tumbling about the platform…well, unless you're this guy. Check that, most Scat rides now have a seatbelt to secure riders…the real fun is over.
Other Info
There is a ride called Scat 2 by Hi-Lite rides. The only real difference visually is that Scat 2 has a set of simple, arching light ornaments over the riding platform while the original Scat has a large, elaborate light fixture with round decorations and lighting. The latter usually has the light decoration removed as it's really non-essential to operation and lessens the load when transporting.
As for the name, the word 'scat' is defined as "to go off hastily," which seems to work until you take into account that scat is also a term for animal droppings. Despite this, most Scat rides retain their original name; although there is one owned by Kissel Entertainment that has been re-named 'Surge.' I kind of like that name actually!
Here's some photos of Campy's Amusements' Scat 2 ride.
Video
And here's a video of Campy's Amusements' Scat 2, a particularly great looking example of the ride with LED lighting and a nice color scheme. Can one even call this a WTCR anymore?

10: Yo Yo | 9: Trabant | 8: Hustler | 7: Cobra | 6: Ring of Fire | 5: Paratrooper | 4: Scat | 3: Zipper | 2: Hi-Roller | 1: Sky Diver | WTCR Home