The Paratrooper, manufactured by Hrubetz, is a ride that consists of a large wheel with hanging chairs attached to it. The wheel spins up and then rises to an angle. It's a fun ride! But then there are the rim-driven (aka non-hydraulic) models as well, and while the lifting versions are pretty white trash carnie ride, the rim driven ones perfectly fit the bill. These are Paratrooper wheels that are simply attached to a tower. Instead of everyone loading at once, the cars are loaded one at a time in a ferris wheel fashion.
These just look white trash for some reason. The rim-driven ones are always old looking because they ARE old. The original Paratroopers were of this type, and the hydraulic lifting ones came out afterwards. It's rim-driven via a tire drive, of course this means that screeching and other concerning sounds are produced by this attraction. These old Paratroopers also seem to run a bit faster, and with the simple "just there for looks" restraints on a Paratrooper…well it's not the best feeling safety wise. Also, since the wheel doesn't spin up in a flat position, the chairs swing and shake like crazy while spinning up before they settle down after the top speed is reached.
The Ride
I'll just document my ride on a genuine Rim Driven Paratrooper…
I went on one in maybe 1996 at the good old Meadowlands Fair, the showcase for weird amusement rides in my part of NJ. My friend and I got into the seat waiting for us, and were rotated to the highest point; the ride op then proceeded to wait for more people to come aboard. My friend farted maybe 5 minutes into the wait, and it made the seat vibrate…it was kind of funny…but we were still waiting (lovely story so far, huh?) Five minutes later the ride started moving again, I have no idea if anyone else got on. The ride spun up to a very brisk speed, enough to swing the cars completely sideways at the highest point. It was very scary…and very rickety…and very white trash carnie ride.
Other Info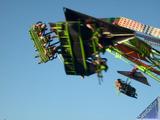 While I don't think any company has tried to re-make the rim-driven Paratrooper, there are a few non-Hrubetz made Paratroopers. One is the Heintz Fahtze made Twister which is basically an updated Paratrooper; Haymaker at Six Flags Darien Lake is a Twister. There's also the Cliffhanger made by Dartron which is a hang gliding version of the Paratrooper. Riders lay on their stomachs instead of sitting. I find the ride to be pretty uncomfortable if it lasts for more than two minutes however.

10: Yo Yo | 9: Trabant | 8: Hustler | 7: Cobra | 6: Ring of Fire | 5: Paratrooper | 4: Scat | 3: Zipper | 2: Hi-Roller | 1: Sky Diver | WTCR Home