The Loop-O-Plane is a little ride made by Eyerly. It is seen at virtually every small fair you can find. It's extremely portable and has a high thrill factor; a perfect combination for a carnival company. The Loop-O-Plane is a pretty simple ride; there are 2 cars with 4 people per car attached to two arms that each sport a small counterweight at the opposite end. The coolest part about a Loop-O-Plane is that it's operated with one of those giant levers that the ride op has to push in whatever direction he/she wants the motor to run. These rides are usually in good condition because they all have been around for so long that at some point they were fixed up.
The Ride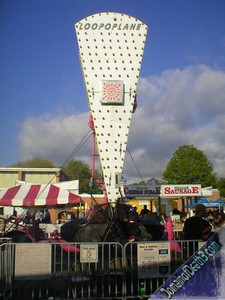 First you cram into a small caged car with a lapbar made by Satan himself. When the door closes, the lapbar closes down with it, and the bar is actually secured by having one end stick out through a slat in the door. The lapbar is the standard Eyerly torture device that is made with a small tubular bar with a seatbelt strap looped between the two ends; it's kind of like a big violin bow.
Once all 8 riders are secured, the ride starts…obviously. First the arm rocks back and forth, gaining speed to complete a loop. The operator pushes the lever back and forth quickly to get the cars to complete the first loop and after that it's all momentum. The op simply holds the lever all the way to one side as the cars do fast looping maneuvers. I remember getting like 25 flips before the ride op decided to switch directions on Keansburg Amusement Park 's Loop-O-Plane (pictured above.) I had to close my eyes after a while to prevent from getting too nauseous. The weird thing is after a bit I had no idea of whether I was upsidedown or rightsideup while my eyes were closed. The real kicker on these rides is when the op stops the cars upsidedown; you are truly at the mercy of the operator on this ride.