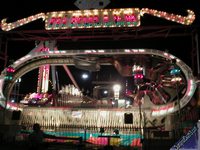 Look at this…just look at it for a few seconds. It's our number two White Trash Carny Ride, Hi-Roller. This may be the perfect WTCR, combining a sketchy theme with a nightmarish motion sure to make all but the strongest of stomachs queasy.
Hi-Roller is a ride manufactured by Larson International. Hi-Roller seems to be a re-theme as the model offered by Larson is called Crazy Train. The ride is comprised of an oval track mounted onto a frame. Riding along the track are five triangular-shaped cars that hold four people each.
Hi-Roller is themed with a casino motif complete with slot machines, cards, and other gambling paraphernalia. Crazy Train models just go with a generic theme. Personally, I'm partial to the Hi-Roller theme. It's actually not bad for this type of ride as it acts as a double meaning (allowing a casino theme as well as accurate description of the ride.) It also gives the ride a tasteful WT Carny Ride flare. I just wish there was artwork of Lester Diamond from Casino somewhere on the flash to add the cherry on top so to speak.
Riders sit facing the car in front of them. When going around the turns, each pod comes amazingly close to the other. The front of each pod is adorned with plexiglass which this gives riders an up close view of the opposing passengers horror. Also, considering that the pods flip open, I'd hate to see one of these stall in a turnaround, effectively trapping passengers. However, I have a feeling that scenario has been thought of and that the train can be rolled back.
The Ride
Riders enter one of the five, four person cars and are secured via a padded lapbar. The train begins to plod around the track like a slow, oval version of Ring of Fire. If you notice, the track actually looks a lot like Ring of Fire's. They're made by the same company however the way the trains are powered is different. Once the train does a couple of laps, the track begins to rotate horizontally…fast. The combined movement ensures that riders are completely disoriented as well as smacking into each other every 0.5 seconds.
Other Info
I better come clean and say that I've never ridden Hi-Roller. I would now, but back when I routinely saw the ride I was just a chicken. I'm not sure how I'd handle the motion though as it seems quite unbearable.

Something funny about the ride is that the train doesn't seem to be counterbalanced with anything. When the train is at the bottom, the motor running the track's rotation will slow down as it strains to fight the weight. Conversely the rotation will speed up if the load is at the top. This is more apparent when the ride is starting up. Once at full speed, the rotation has enough momentum to keep things going somewhat unabated.

After browsing YouTube for various Hi Roller/Crazy Train clips, there's one thing that's evident; many of the people have noted that they have ridden it and gotten sick afterwards. In a topic about Hi-Roller over at Matt's Carnival Warehouse, some posters, many of which work in the carnival industry, compared a ride on Hi-Roller to a car accident.

Here's a video of Crazy Train at the 2010 California State Fair. Video thanks to freeridemtb2.

10: Yo Yo | 9: Trabant | 8: Hustler | 7: Cobra | 6: Ring of Fire | 5: Paratrooper | 4: Scat | 3: Zipper | 2: Hi-Roller | 1: Sky Diver | WTCR Home