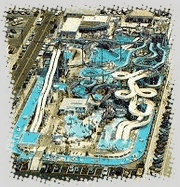 I remember my first waterslide ever; it was this pair of crappy slides that used to reside in Keansburg, NJ. Before Keansburg Amusement Park opened their Runaway Rapids waterpark, a pair of old, wooden supported slides took their place. The two slides utilized mats which you sat on (as opposed to lay flat on like most mat slides) and had many twists and turns until dumping you into this small scummy splash pool. The slides weren't too bad, but it was just those two slides and that's it. You couldn't really call it a waterpark or anything, just "the slides." Not long after my first experience on a waterslide, I went to my first real waterpark, Waterworks.
Waterworks was a waterpark that took up a full block in front of Casino Pier in Seaside Heights, NJ, a popular Jersey shore destination. It was a very unorthodox waterpark with quite a few odd slides that hailed back to the days when slide manufacturers were still in the testing phases of waterslide building. However this waterpark wasn't nearly as notorius as north Jersey's Action Park in terms of using riders as test dummies. From the outside the place looked like a mess of slides of every color typical to waterslides: eggshell white, forest green, and light blue. Every possible space was filled up with some sort of H20 contraption.
The first slide that I and probably most patrons would notice was a pair of slides that weaved over and under each other, apparently called Super Twist. The slides went right over the park and then curved down into one of those 'splash lane' things. A splash lane is basically a flat portion of the slide that's flooded with water. When a person slides into it, they slow down to a stop due to the water's resistance. Anyway, it was a really weird looking slide, sort of looking like a DNA double helix. When I frequented Water Works back in the day, I was too much of a wuss to ride Super Twist…that's damn shame as something like that would probably be frowned on by insurance companies of today.
Next to the splash lanes of the above slides were the splash lanes of two vertical drop speed slides. They're not actually vertical, but they are pretty steep. They were just your typical speed slides where you drop down a large hill, maybe 70 feet or so, and fly into the splash lane. Absolutely no frills at all; it was just "here it is, ride it" much like every other vertical speed slide.
Behind the splash lanes of the aforementioned slides was a large pool; this harbored quite a few things if I remember correctly. On the right side of the pool were a couple of slides that started maybe 10 feet off the ground and simply dumped riders into the pool below. A newer map of the former Waterworks park lists these as "Cannonball Falls." Not to be confused with the Mountain Creek/Action Park counterparts which are much more sinister.
On the other side were the Octopus slides. These were three short enclosed slides that dumped riders out several feet above the water. All three slides basically turned about 270 degrees downward until spitting riders out. I actually remember stopping in one of the slides after losing momentum for some reason. I was able to start sliding again but it was weird that I stopped since the slides are pitched downward the whole way!
Somewhere near these attractions was a pair of non-enclosed set up above a small building. The slides simply went down a small drop and ended, leaving riders to fall several feet into the water. Most waterparks have versions of these called "Shotgun Falls" but the ones at Waterworks were made a bit differently. I remember they didn't go nearly as fast as the typical 'Shotgun' slide. I also remember the 'lifeguard' at the top of the slide telling me to do a cannonball as I fall into pool to splash the other lifeguard at the bottom of the slide.
Over by the stairway up to the twisting slides I talked about near the beginning were a couple of speed slides. One was a smaller version of the vertical slides and one was an enclosed slide that wrapped around the other in one continuous downhill curve. Both of which were extremely fast and the enclosed one in particular seemed borderline dangerous! The enclosed one was surprisingly steep, sending riders up onto the sides of the slide due to the centrifugal force. Both are unfortunately gone today.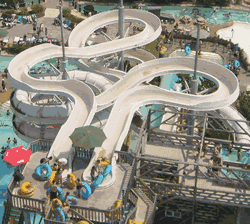 Above the two slides mentioned above was a pair of slides that consisted of 2 or 3 steep dips before ending. It was a racing slide basically. I forget if you used a mat or if you just lay on your back however. On the opposite side were some tube slides, one for single tubes and one for double tubes. Both of which were a bit older in design and featured a few spirals and short drops. There may have been a couple of other tube slides back then, as the new waterpark does indeed have two more listed, but I don't seem to remember them back in the Waterworks days.
Today Waterworks stands under the name Breakwater Beach and is owned by Jenkinson's, the same owners of Jenkinson's Boardwalk in Point Pleasant, NJ. Most of the bigger slides were removed such as the pair of enclosed ones that went over the park, the vertical slides, and the smaller vertical slide along with the enclosed slide around it. They added an interactive play area among other things, something nearly every waterpark has now. They also have a go-kart track for some strange reason; I'm surprised they could even fit a go-kart track in there! Even though the place has been open for I have yet to visit Breakwater Beach since the remodeling.
Anyone else remember this place back when it was Waterworks (or even the old slides in Keansburg!)?  Leave a comment below and share your story!
Lynx
Water Works at DeLorean Travels